In November, the Loan Application Defect Index for purchase transactions continued its string of month-over-month increases, rising for the third month in a row. Yet, year over year, the Defect Index for purchase transactions remains 7.7 percent below its level in November 2017. The Defect Index for refinance transactions also increased 2.8 percent compared to the previous month and is 5.8 percent higher than a year ago. The overall Defect Index, which includes both purchase and refinance transactions, increased 2.5 percent compared with October, but declined 2.4 percent year over year.
---
"The question is not if defect risk will continue to increase, but when will it stop."
---
Fraud and Defect Risk Follows Historic Trends in Wildfire-Impacted Areas
The staggering scope of the damage and loss of life from California's early November wildfires continues to grow. The Camp Fire in Butte County, the deadliest U.S. wildfire in a century, impacted 16,735 properties worth $3.8 billion dollars, according to data from DataTree by First American. This number is even higher when you consider other insured losses, in addition to the value of the home. The Woolsey Fire, which spanned Los Angeles and Ventura counties, was slightly smaller in size, but also had a devastating impact and ultimately destroyed over 1,600 structures.
Historical data indicates that natural disasters and loan application defect risk go hand-in-hand, as they increase the potential for misrepresentation of collateral condition. In last month's post, we discussed the potential implications of the recent California wildfires on mortgage fraud risk, and after examining the first month of data, it appears historical trends are playing out.
Following the Woolsey and Camp fires, defect and fraud risk has increased in all three of the affected metropolitan areas. Fraud and defect risk increased the most in Oxnard, rising 6.0 percent compared to October, followed by Los Angeles (3.3 percent) and San Francisco (2.8 percent). Before the November increase, fraud and defect risk was relatively flat in all three metropolitan areas.
The tragic impacts of the Woolsey and Camp fires continue to be assessed and, unfortunately, appear to include rising fraud and defect risk. Given historical trends, the question is not if defect risk will continue to increase, but when will it stop.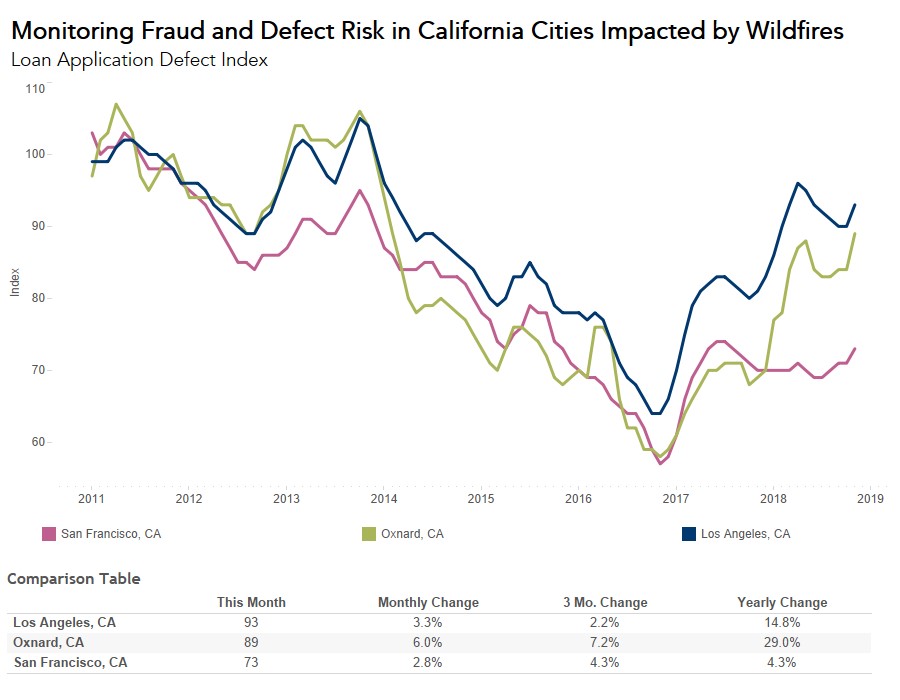 For Mark's full analysis on loan defect risk, the top five states and markets with the greatest increases and decreases in defect risk, and more, please visit the please visit the Loan Application Defect Index.
The Defect Index is updated monthly with new data. Look for the next edition of the Defect Index the week of January 28, 2019.