During Women's History Month, it's important to reflect on the progress that single women have made in achieving one of the main tenets of the American Dream - homeownership. According to our analysis of anonymized household-level survey data, following an overall decline in the homeownership rate among single women in the aftermath of the Great Recession to a low point of 49 percent in 2016, the homeownership rate among single women has rebounded significantly to just over 52 percent in 2020. The rebound for single women homeownership has outpaced the overall homeownership rate of growth over the same time period.
"We've all heard the children's nursery rhyme, 'first comes love, then comes marriage,' but it seems for many women, first comes homeownership."
Mortgage data from Freddie Mac confirms the rising demand for homeownership from single women, as the share of single women among their purchase mortgage customers rose 30 percent from 2010 to 2019. Survey findings further confirm that many single women are prioritizing homeownership over several other key life decisions, such as getting married and having children. Homeownership is a key tool for wealth creation in the United States, and single women are increasingly embracing wealth creation through home buying. We've all heard the children's nursery rhyme "first comes love, then comes marriage," but it seems for many women, first comes homeownership. But, will the pandemic and its economic impacts derail the dream of homeownership for single women?
Education, Income for Single Women Drives Increased Homeownership
We know from previous research that higher educational attainment results in higher household income, and higher income improves the likelihood of homeownership. This remains true among single women. Women with higher levels of educational attainment tend to earn more and are more likely to be homeowners, and women have increasingly pursued higher levels of education over the last two decades.
The share of single women with a bachelor's degree or higher has increased from 20 percent in the year 2000 to over 32 percent in 2020. Similarly, real median household income for single women has increased approximately 10%* from 2000 to 2020, resulting in greater house-buying power. These trends have increased the importance of educational attainment in achieving homeownership. The homeownership gap between single women with just a high school degree (or some college) versus those with a bachelor's degree was 0.1 percentage points in the year 2000 and increased to 7.8 percentage points in 2020. As educational attainment and household income for women continue to rise, we can expect increased homeownership to follow suit.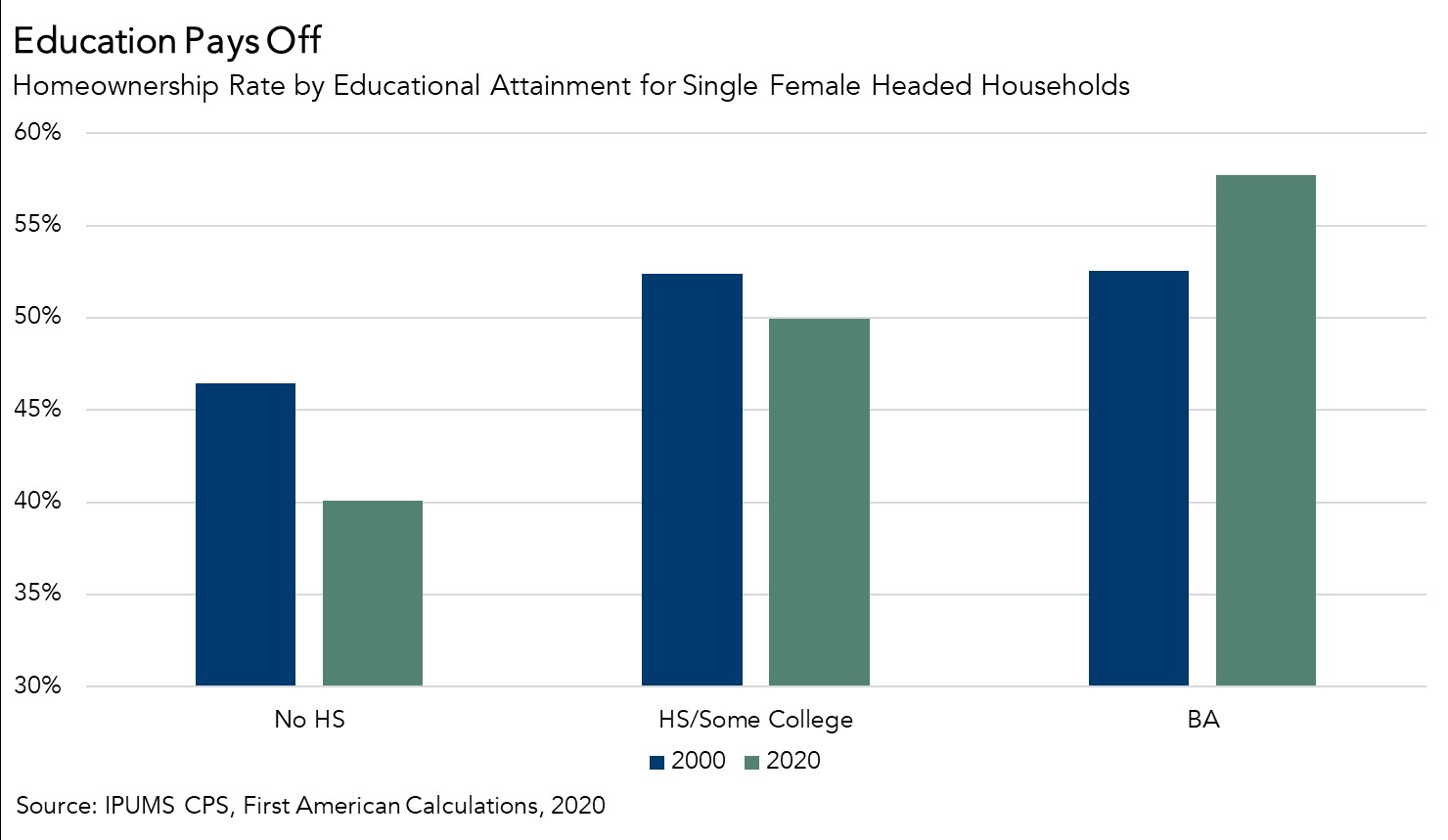 The Potential Impact of the "She-cession"
The current health crisis has resulted in economic hardship for many, particularly a negative income shock and high unemployment. Women have been disproportionately hurt by the pandemic "she-cession" because women, specifically younger and less educated women, are over-represented in service sector jobs and this was the Great Recession for the services industry. Homeownership, on the other hand, is highly correlated with being older and more educated.
While the pandemic recession has proven devastating for many of these workers, the nature of this service sector-driven recession is unlikely to result in a one-to-one decline in homeownership demand for single women because those being impacted disproportionately by this "she-cession" are much less likely to have been house hunting in the first place. Single women homeownership in the medium- and long-term, particularly for millennial women, is anticipated to rise due to increasing educational attainment, income, and a desire for homeownership.
*Pandemic-related data collection issues in the Current Population Survey may impact 2019 income survey results. Median income growth for single women is assumed to grow 5.1% YoY in 2019 instead of the reported 7.9%. Data is not yet available for 2020 household incomes, but we assume a YoY decline of 1.5% due to the pandemic recession (assumption is from annual percent decline in median household income for single female-headed households over previous two recessions).