At first glance, the outlook for the 2022 housing market is a familiar one – strong millennial demand for homes constrained by an ongoing, historic housing supply shortage. This supply-demand imbalance generated the record house price appreciation seen in 2021 and, given this dynamic shows few signs of changing, we expect house price appreciation to remain high in 2022. While rising mortgage rates in 2022 may reduce affordability (all else held equal) and prompt house prices to moderate, that's only likely to take house price growth from record-breaking levels to strong and steady. Entering 2022, a still red-hot sellers' market means homeowners remain poised to reap significant equity gains, but will they tap that equity to move up to a bigger or better home, or will rising rates prove to be too much of a financial disincentive? At the entry level, first-time home buyers can expect to see affordability erode further as mortgage rates rise, but will that add urgency to first-time buyers to make their move sooner, rather than later?
---
"You can't buy what's not for sale in your own market, but you can relocate."
---
Will Historic Equity Levels Spur Existing Homeowners to Escape the 'Lock In' Effect?
Homeowners in the second quarter of 2021 had an average of $280,000 in equity -- a historic high. With house price appreciation expected to remain strong into 2022, this equity accumulation shows no signs of abating. Just over 65 percent of households in the United States are homeowners, so most households will likely benefit in 2022. Increasing house price appreciation may encourage existing homeowners to use that equity to purchase a larger and more attractive home – a dynamic known as the wealth effect of rising equity, which is already happening to some extent.
In the latest existing-home sales report, the increase in home sales relative to one year ago was strongest at the upper end of the market, as sales of homes priced over $1 million increased nearly 31 percent, followed closely by a 25 percent increase in the sales of homes priced between $750,000 and $1 million. Since first-time home buyers generally don't purchase at the higher end of the market, the home sales at these price points are typically occurring among existing homeowners, who are playing "housing musical chairs" by selling to each other.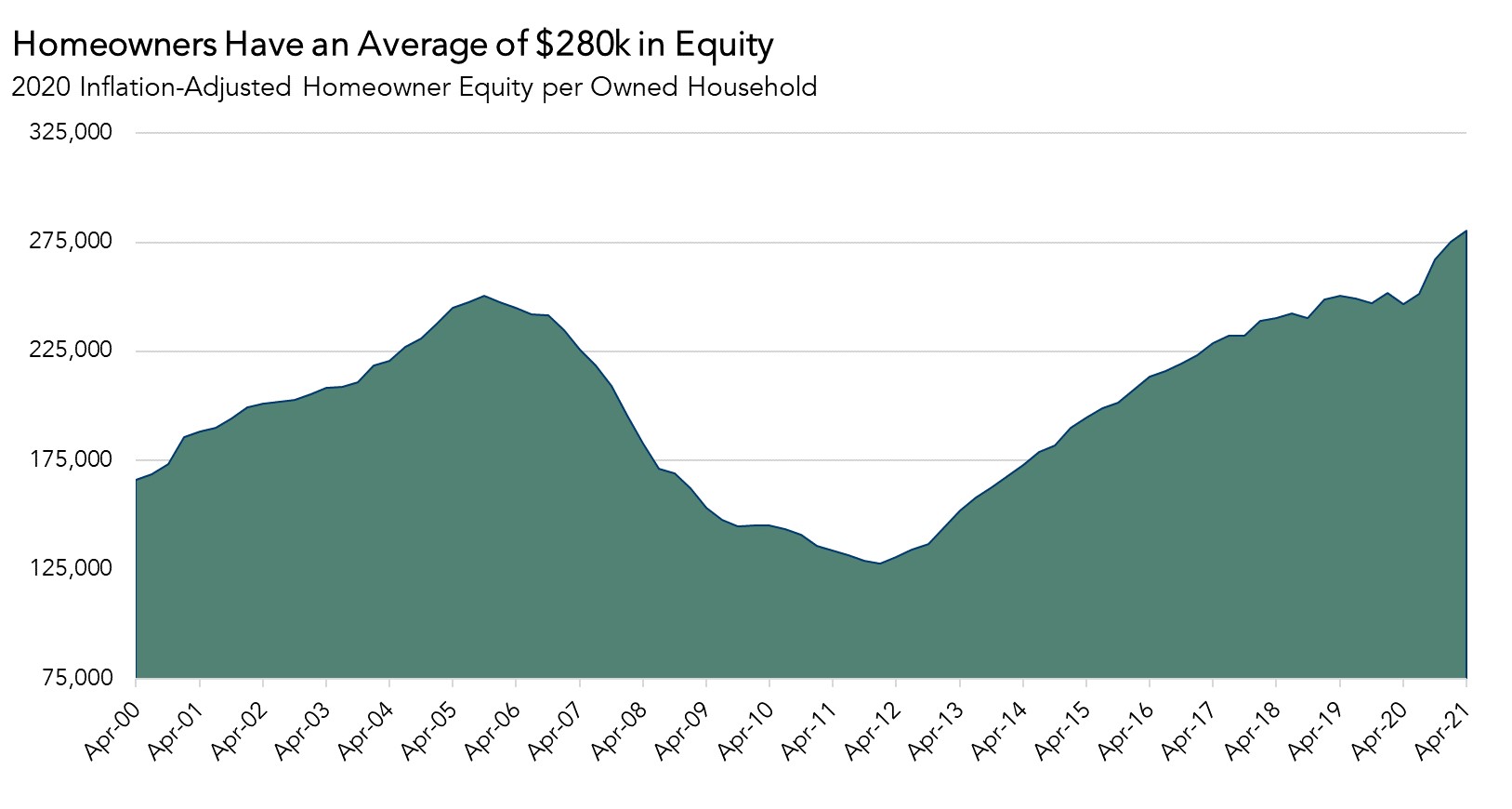 "Locked In" or Ready to Move?
While an existing homeowner may have more purchasing power because the equity in their home has surged with price appreciation, the price of the home upgrade they are interested in has also increased. And, even if the homeowner has the purchasing power, it's hard to buy what's not for sale as housing supply remains near historic lows. The fear of not finding something to buy in a housing market with historically low inventory is one reason the average length of time homeowners live in their home has reached a high of nearly 10.7 years.
Another factor that may keep existing homeowners on the sideline is the high likelihood of rising mortgage rates in 2022. While existing homeowners are sitting on record levels of equity, many of these owners have also secured historically low fixed-mortgage rates. There is a financial "lock-in" effect that increases as mortgage rates rise and the size of the mortgage increases. The good news is that the pandemic has brought with it a new normal -- work-from-home. This may allow existing homeowners who are sitting on record levels of equity to move somewhere cheaper, where their equity can get them a lot more home, even in a rising mortgage rate environment.
The Struggle is Real, and Likely Worsening, for First-Time Home Buyers
Millennial home buyers, many of whom are first-time buyers, made up the largest share of home buyers in 2021. Yet, this generation continues to lag their generational predecessors at the same age when it comes to homeownership, primarily because they've chosen to delay key lifestyle decisions that are highly correlated with homeownership in order to further their educations. As they continue to age into their home-buying years in 2022, they will face a market with rapid house price appreciation, limited inventory, particularly in the lower price segment, and higher mortgage rates. Worse yet, first-time homebuyers don't have the equity from the sale of an existing home to bring to the closing table. While the fundamentals support continued first-time home buyer demand in 2022, these buyers will face an uphill battle if housing supply remains near historic lows. You can't buy what's not for sale.
Migration Nation?
While mortgage rates are expected to increase in 2022, consensus still puts them below 4 percent, which is very low from a historical perspective. Continued wage growth will help boost household income, increasing house-buying power. Finally, the untethering of workers from the office gives first-time home buyers the greater opportunity to move to less expensive areas. Research shows that even prior to the pandemic, there was a movement from larger metros to smaller ones, and from urban cores to suburbs and exurbs. The migration to smaller metros and suburbs is likely to continue because of millennials' lifestyle choices as they continue to age into homeownership and the pandemic-driven acceleration of the untethering of workers from the office.
According to our third quarter First-Time Homebuyer Outlook Report cities such as Buffalo, Pittsburgh or Oklahoma City, offer first-time home buyers the most opportunities for homeownership because the median renter's house-buying power in these cities allows first-time home buyers to consider a much greater selection of homes to buy. You can't buy what's not for sale in your own market, but you can relocate.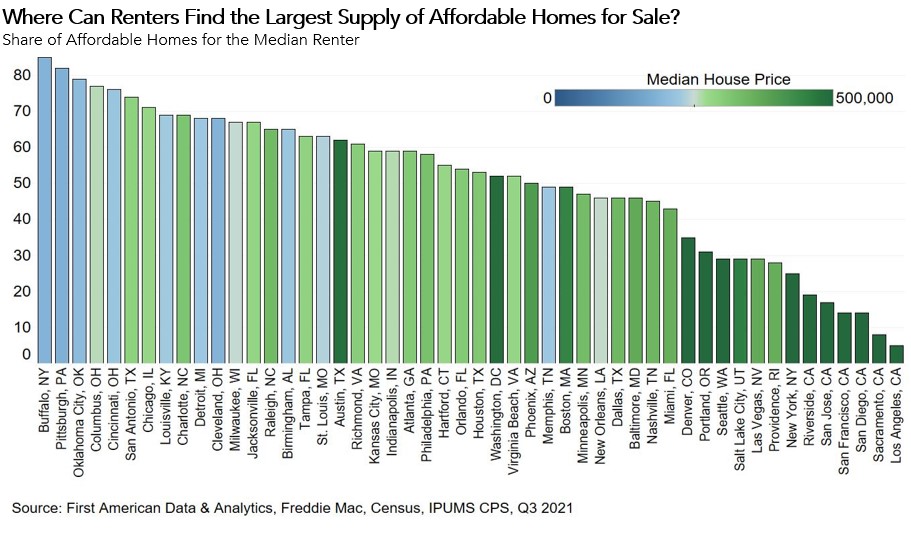 The Outlook for 2022
While the global pandemic remains a part of our daily lives, if the health situation continues to improve, the housing sector will once again have the wind at its back in 2022. Although we're likely to remain in a competitive sellers' market through next year, it's possible that the affordability crunch and ongoing supply shortage may ease the full-throttle demand we've seen in 2021 and result in a moderation of house price growth. The beneficiaries of continued house price appreciation will be existing homeowners, while first-time buyers will continue to struggle to find something to buy as affordability erodes. Despite headwinds, millennials who were not able to buy in the competitive 2021 housing market will try again in 2022 and beyond because buying a home is as much a lifestyle decision as it as a financial one.