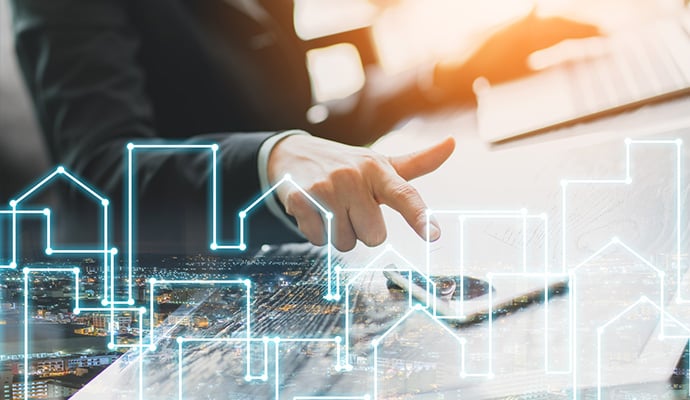 Real estate transactions can be stressful experiences for buyers and sellers, so it's no surprise that successful real estate companies are rooted in delivering superior customer service. Providing buyers and sellers a smooth experience amid one of the most important transactions of their lives makes a lasting impression. That's one reason customer service has been central to how First American has conducted business for 130 years.
"First American's technology experts are constantly engaging in forward-looking technology planning and innovation discussions to enhance the real estate transaction experience."
As a title and settlement services company, delivering a great experience to buyers and sellers includes providing the other parties in the real estate transaction – lenders, real estate agents and other real estate professionals – with the information they need to serve the buyer and seller well. They're our customers in the transaction, too.
Over the decades, First American's commitment to customer service has never wavered, but the company's approach to customer service has consistently evolved to incorporate new technologies and more efficient processes. The company's pursuit of a better customer experience continues today as technology enables new ways to serve customers.
Technology Investment and Cloud Technology Creating New Opportunities
Venture capital investment in real estate technology increased dramatically between 2016 and 2018, and it looks like investment in 2019 will be on par with 2018. The flood of venture capital funding is contributing to the accelerating pace of change across the broader real estate and mortgage finance landscape. For example, increasing technology investment and the adoption of cloud technology by lenders, settlement providers and other real estate companies has helped broaden a new frontier in customer service – technology integrations.
Yet, technology integrations aren't necessarily new. First American has had integrations with a variety of lenders for years, but they were limited in scope and functionality. However, the proliferation of cloud technology and open application programming interface (API) architecture has helped expand the scope of what's possible in technology integrations. For several years, First American has been pioneering cloud technology in the title and settlement industry and diligently adapting our products and industry-leading data assets to be accessible through APIs, which enable separate applications to rapidly exchange data.
Through the use of APIs, we can connect the capabilities of First American's Secure Portal to a lender or real estate company's consumer-facing platform, providing a seamless experience for buyers and sellers, and enhancing efficiency and security. The same APIs also allow us to serve new customers, such as iBuyers, real estate investors and others, through integrations, offering title order placement, order status notifications and the ability to exchange fees with other parties in the transaction. In both examples, we're improving the real estate transaction for all the parties involved – a core focus of First American's commitment to innovation.
Technology Planning Discussions with an Emphasis on Customer Service
First American's technology experts are constantly engaging in forward-looking technology planning and innovation discussions to enhance the real estate transaction experience. These conversations can help optimize how First American's technology can support our customers and deliver a better real estate transaction experience for buyers and sellers, which is the foundation of customer service.
The momentum from technology innovations, growing investment and consumer demand is converging to push the real estate and mortgage finance industry to unify the real estate transaction experience from search to closing and even to the secondary market. It's just the beginning of an exciting time for the industry and for First American. And while the technology and innovation are exciting, the reality is these opportunities are just the latest examples of First American's 130-year-old emphasis on customer service.
We'll be sharing more details about our technology integrations in the months ahead, so be sure to subscribe to stay in the know as we find new ways to bring innovation to customer service.
Jim Dulle is vice president of operations and information technology with First American Title Insurance Company's Direct Division. He also serves as the managing director of First American Title's centralized iBuyer group.