The pandemic has challenged businesses and organizations in the United States and around the world to adapt and innovate rapidly. Faced with the urgent need to protect employees, customers, and the larger community, these creative solutions reveal a spirit of innovation and a willingness to overcome traditional limitations to provide safe and effective solutions to serve customers.
"The SECURE Notarization Act would give all notaries the tools and authority to perform RON, in turn dramatically increasing consumer access to RON and providing home buyers and sellers the option to choose a no-contact real estate transaction closing. Strong minimum requirements for consumer safeguards applied nationwide would help prevent fraudsters from exploiting weaker state laws and stealing identities and homeowners' equity."
This three-part Q&A series highlights First American's efforts to adapt and innovate amid COVID-19 as part of the company's commitment to its employees, customers, and communities. Part one of the series delved into how the company rapidly moved to help employees work from home and part two of the series examined how First American employees quickly adopted innovative field-level solutions to help close real estate transactions.
In the final article in the series, Michael O'Neal, vice president, title underwriting, provides his perspective on how innovation in underwriting helped First American continue to close transactions for our customers, while protecting each other, customers and their communities.
Question: Explain your role with the company and the connection to the need for state-by-state underwriting adaptations.
"One of First American's core strengths is not simply fostering innovation, but also recognizing that innovation is more than new technology. It includes coming up with better ways to do current tasks or finding solutions for problems that no one has yet tackled. Underwriting is seen as one of the traditional pillars of title insurance, but it is just as able to adapt as any other part of our business. As a member of the company's Innovation Underwriting team, my role is to drive change in a way that manages or even reduces risk to our customers and our company.
"Even before the pandemic, a number of factors were driving the real estate industry to transition from traditional paper and wet-ink signings to electronic signatures on digital, paperless documents, commonly referred to as an eClosing. A central part of this transformation toward a more digital real estate transaction experience is enabling electronic notarization of the transaction's key documents. While notary laws vary from state to state, they rely heavily on pen, ink, and paper processes that go back literally to the time of the Roman Empire.
"For the past several years, I've led our company's efforts to support states' adoption of remote online notarization (RON) laws. RON is a fully digital process in which the signer's identity is verified with strong anti-fraud measures and then electronic documents are eSigned and eNotarized with the notary remotely viewing via webcam.

"A few years ago, we saw a patchwork of inconsistent RON laws start to emerge at the state level. To help support uniformity and the inclusion of the appropriate technology and policy guardrails to protect home buyers and sellers, we worked together with the American Land Title Association (ALTA) and Mortgage Bankers Association (MBA) to develop model laws and model regulations for states to use. Uniformity and strong anti-fraud, consumer-protection safeguards can make RON beneficial to consumers and businesses alike.
"You mentioned state-by-state underwriting adaptations. Because notary law intersects with many other areas of state law, there are many nuances that must be figured out on a state-by-state basis when passing RON laws. We've worked hard over the past few years to account for these nuances, while keeping the basic consumer protection framework of RON uniform across the country."
Question: When did you realize that the pandemic would create the need for underwriting innovation?
"When the pandemic arrived, I knew immediately that RON had to play a large role in the real estate industry's response. In an era of social distancing, and during a time when consumers across the country faced an immediate need to access their home equity or reduce their mortgage payments, it was obvious that being able to use a webcam to close a refinance at home would be much more than just a convenience. It suddenly became a way to support the safety and health of our customers, our people and the communities in which we live.
"But we faced a timing conundrum. RON has been extremely popular amongst the states. In less than three years, we had gone from having two states with RON laws to 25. Another 20 or so were contemplating RON laws. However, only a handful of states' laws had actually gone into effect, and many state legislatures were adjourning as states adopted stay-at-home orders. We knew exactly what tools could help protect the health and safety of participants and keep the real estate economy going forward, but we were not sure the states could drive RON legislation quickly enough to bridge the gap."
Question: What is the difference between the temporary remote notarization emergency orders issued by some states to comply with social distancing requirements and the permanent RON laws adopted by other states?
"It's important to note that some of these state-level solutions are permanent, while others are merely temporary. Some state governors used their emergency authority to suspend the legal requirement for signers to 'personally appear' before a notary, enabling a temporary remote notarization solution. The emergency orders usually expire after a few weeks, unless renewed. Many of these orders also lack the strong consumer safeguards found in the ALTA-MBA model legislation, which I mentioned earlier. When state legislatures come back into session next year, we want to highlight a key lesson of the pandemic—that RON is a powerful and safe consumer choice—while encouraging the adoption of the critical consumer protections embodied in the model legislation."
Question: With RON laws varying state-by-state, what has been done to create a national standard for RON?
"The SECURE Notarization Act is a proposed federal bill backed by major players in the real estate industry and introduced with bipartisan support in both houses of Congress. It quickly took shape following the president's initial address to the nation regarding the coronavirus in March. As I mentioned earlier, we immediately knew that RON would play a large role in our industry's response to the pandemic and that our industry faced a huge capacity gap: there were simply not enough notaries in enough locations who could perform RON and meet the immediate needs of consumers nationwide.
"This capacity gap was mainly a result of timing. Even though RON laws had passed in 25 states, the other half of the country had little access to this technology. And, of course, around half of those 25 states with RON laws might have to wait months before their laws would take effect. Although we knew some states might respond by quickly passing legislation or issuing emergency orders, these solutions were not available everywhere. Only Congress had the authority and ability to respond at a national level to help fill the capacity gap. That was the initial impetus for the SECURE Notarization Act.
"However, it's also important to point out that the SECURE Notarization Act did not simply materialize overnight or arise in a vacuum. There have been many policy discussions over the years and even legislative antecedents in Congress that we were able to build on. These prior experiences all shaped the form and policy goals of the SECURE Notarization Act."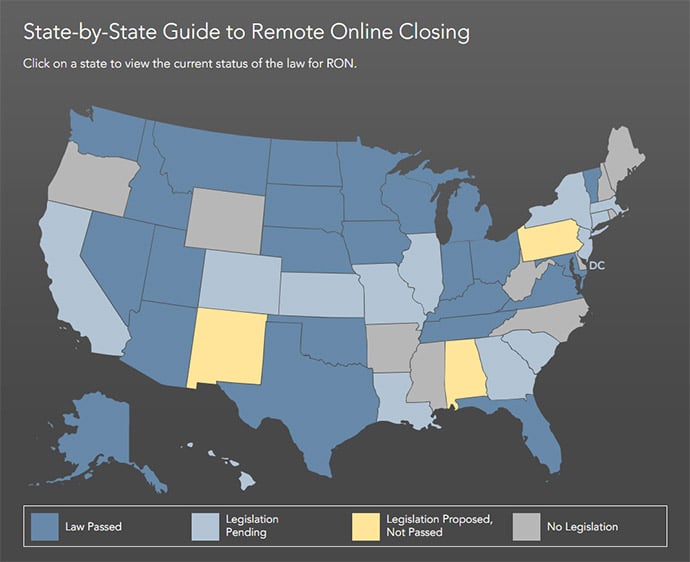 Question: How would the SECURE Notarization Act benefit home buyers and sellers?
"The SECURE Notarization Act has one basic policy objective: to provide consumers nationwide access to RON with strong consumer safeguards. There is a three-pronged approach to reach this goal. First, notaries in every state would be given the authority to perform RON for consumers. Second, every RON would have to adhere to a set of minimum consumer safeguards, although the authority of states to establish higher standards and more protections would be fully preserved. Finally, every state would recognize all notarizations performed by each other's notaries.
"The benefits to home buyers, sellers and borrowers would be immense. The SECURE Notarization Act would give all notaries the tools and authority to perform RON, in turn dramatically increasing consumer access to RON and providing home buyers and sellers the option to choose a no-contact real estate transaction closing. Strong minimum requirements for consumer safeguards applied nationwide would help prevent fraudsters from exploiting weaker state laws and stealing identities and homeowners' equity. Lastly, with clear interstate recognition, consumers in any state could obtain the services of notaries in any other state and be confident in the security of their home titles. In other words, the SECURE Notarization Act would provide the uniformity and security of the ALTA-MBA model state legislation but do so on a faster and more durable basis, while increasing consumer convenience across the country."
Question: What's next for RON and eClosings?
As we look forward to the next few years beyond the pandemic, RON will continue to provide a convenient option for consumers. In addition to clear legislation permitting RON and other types of eClosings, lenders will play a role in expanding the options for buyers and sellers through the adoption of technology and processes needed to conduct eClosings. Title and settlement providers are actively working to enable eClosings as well. Additionally, real estate and mortgage professionals must become informed about eClosing options, so they can educate buyers and sellers. Importantly, if consumers are interested in these new options, they need to ask their lenders what options are available to facilitate their closing.