With interest rates high, transaction volumes low, and property prices generally on the decline, it's safe to say that the commercial real estate (CRE) market is undergoing an adjustment period. The market adjustment has triggered a process referred to as "price discovery," in which many buyers are sitting on the sidelines waiting for lower entry prices that would make returns on prospective investments more appealing. In this month's X-Factor, we'll revisit a prior assessment of where we are in that adjustment period and investigate how long the price discovery process may last.
---
"This may not be the beginning of the end of the CRE adjustment, but, perhaps, it is the end of the beginning."
---
Commercial Property Prices are Down, but has a Floor Emerged in July's Data?
Commercial property prices surged in 2021 and through the first half of 2022, setting new historic highs. The fact that prices are receding from these all-time peaks means that year-over-year price data tells us more about last year's market than the current market. When prices shift so rapidly, it can be instructive to instead use month-over-month growth, and then annualize that figure (assume that rate of growth continued for 12 consecutive months) to get a better sense of the latest rate of price adjustments.
On a monthly, annualized basis, prices for all asset classes have been declining for approximately a year, and longer for Central Business District (CBD) offices. However, in July, multifamily and suburban office prices recovered slightly compared with June, increasing by 1 percent and 4 percent, respectively. Meanwhile, prices for retail, industrial, and CBD office properties continued to decline in July. Of these three asset classes, industrial property prices have been the most resilient, falling more slowly than other asset classes for most of the last year, despite increasing at a similar pace to multifamily prices during the surge.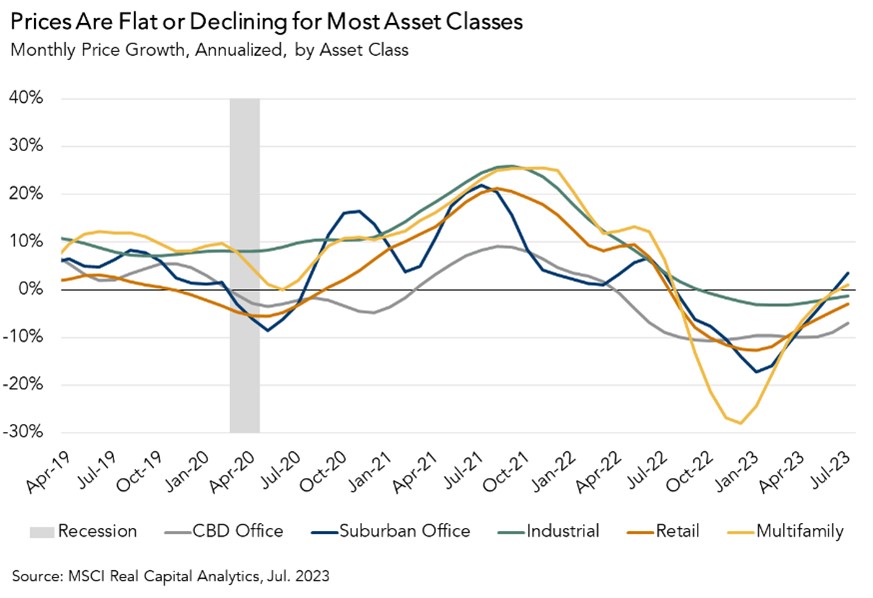 Heard on the Street, Seen in the Data?
With CRE prices falling, buyers are holding out for better deals, which is suppressing transaction volume. Anecdotally, some market participants have commented on what they believe to be an uptick in deal activity that they believe will continue through the second half of this year. However, these anecdotes are not yet appearing in the transaction volume data, which remained 39 percent below the five-year pre-pandemic average in the second quarter.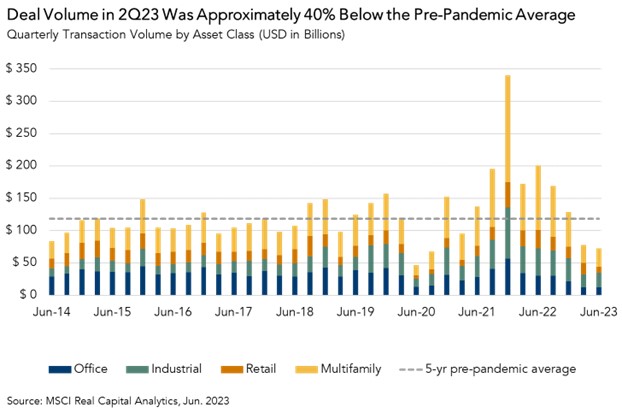 Though CRE lending remains in limited supply, there are some bright spots in the credit markets. Data from a recent Mortgage Bankers Association (MBA) report indicates that commercial mortgage originations from some lenders increased in the second quarter compared with the first quarter. Life insurance companies led the way, originating 95 percent more in CRE loan volume than in the first quarter, followed by investor lenders at 46 percent. Yet not all lenders increased origination volume – CMBS and bank originations fell by 7 and 4 percent, respectively, in the second quarter compared to the first quarter.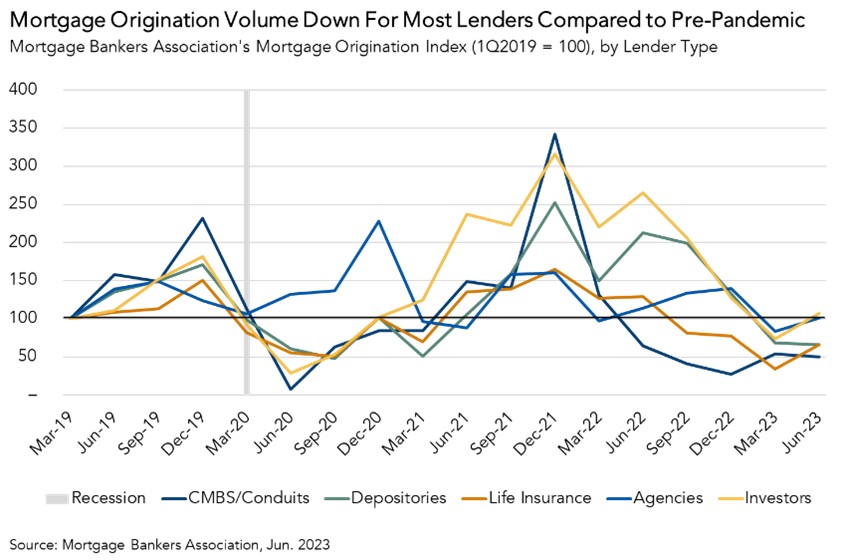 Distressed Debt is Coming Due
On the other end of the amortization schedule, a meaningful quantity of distressed commercial mortgages are maturing over the next two and a half years. Here, "distressed" refers to mortgages with a loan-to-value (LTV) of greater than 80 percent. Between now and the end of 2025, approximately $630 billion in distressed CRE mortgages will come due, which accounts for approximately one third of the $2.0 trillion in all (distressed and non-distressed) CRE mortgages that mature over that same time period. The largest portion of this distressed, maturing debt is, by far, comprised of office loans. Between now and 2025, approximately $350 billion in distressed office loans will come due.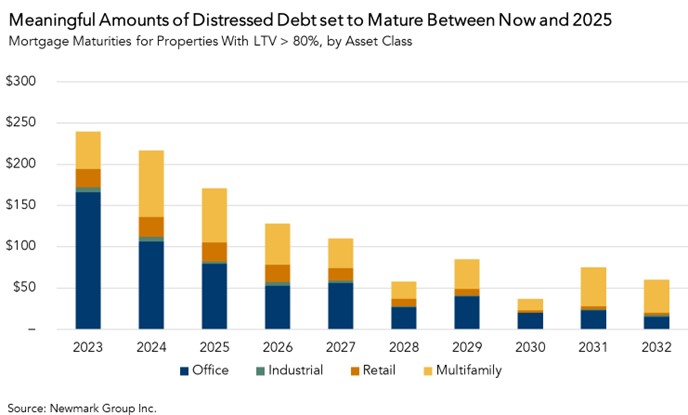 So, What's the X-Factor?
Given the significant quantity of CRE mortgages that mature throughout the remainder of 2023 and into 2024, price discovery will likely continue well into next year. This may not be the beginning of the end of the CRE adjustment, but, perhaps, it is the end of the beginning.