Women's advocacy is one of several key initiatives supported by #FirstAmCares, First American's employee-driven philanthropy program. Among other core causes, First American is committed to supporting charities that provide benefits, programs and services that promote women's health, professional growth and quality of life. These include the American Cancer Society and the American Heart Association.

In 2021, First American partnered with the American Cancer Society (ACS) and its Making Strides Against Breast Cancer program. Throughout the month of October, First American encouraged employees to wear pink on Wednesdays in support of Breast Cancer Awareness, donating $2 to the American Cancer Society for each photo shared. This year, employees posted more than 1,000 photos – raising over $2,000 through the "On Wednesdays We Wear Pink" campaign alone.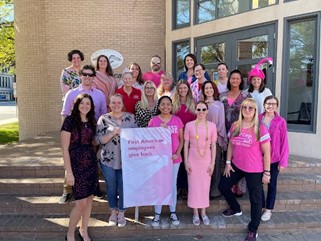 Additionally, First American hosted its Second Annual Virtual Women's Advocacy Event to raise money for ACS. The event consisted of a virtual relay and an open activity where employees and their families could exercise for the cause. On October 9, 13 teams and more than 130 participants virtually ran and walked to support the fight against breast cancer. The Pink Virtual Relay Teams ultimately raised over $55,000 for the American Cancer Society.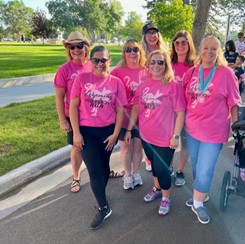 In conjunction with the American Heart Association's Heart Month activities across the nation each February, First American implemented employee initiatives in efforts to end heart disease and stroke. Employees were encouraged to wear red the first Friday of February to participate in Go Red for Women 2022, the American Heart Association's global initiative to end heart disease and stroke in women.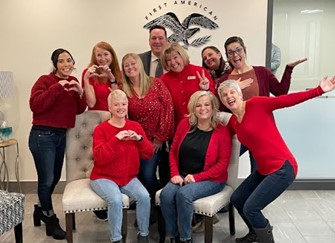 For every photo shared, First American donated $5 to the American Heart Association, and with approximately 450 photos posted, $2,250 was raised. First American also implemented "Sleeves Up for FirstAmCares," a campaign that encouraged employees to give back to their local communities by donating blood at their local Red Cross, which resulted in 615 employees pledging to donate, potentially impacting up to 1,845 lives. After a $10,000 match from First American, $20,550 was ultimately raised for the American Heart Association.