The U.S. housing market may have slightly slowed its progress during the frozen winter months, but industry experts are anticipating that things will soon pick up and prices will be on the rise for the next 12 months.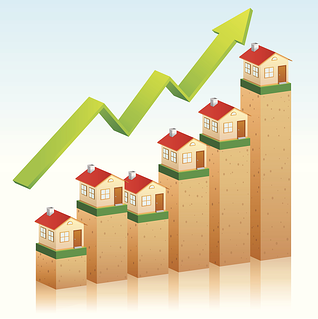 According to the latest Confidence Index from the research department at the National Association of Realtors, real estate professionals expect a median price increase of 3.9 percent during the coming year. And prices are already on the rise, as 65 percent of respondents in the NAR report said the price of their average home transaction is higher today than it was at the same time last year.
The biggest gains in prices are predicted in California, Florida, Alaska and Hawaii. Real estate agents expect that prices will jump anywhere between 5 and 7 percent in these areas due to low inventory. Particularly as we enter the spring homebuying season with higher buyer demand, sellers will have the advantage and be able to raise their prices.
Still, amid these predictions, the NAR report points out that price increases will likely be at a relatively slow pace in the next year "given concerns about the erosion in home affordability, tight credit standards and new regulations impacting demand such as FHA's upfront mortgage insurance."
Latest price movement data
The most recent data on price movements in the U.S. housing market seem to support the NAR report's predictions. The S&P/Case-Shiller index of property values released March 25, for instance, revealed that in January, prices rose 13.2 percent year over year.
This is close to what analysts were predicting (13.3 percent) and marks a moderate pace of growth. According to Bloomberg, it's the smallest price gain since August. On the other hand, rapid increases like the market has seen at times over the past year aren't always great, because that kind of growth can be unsustainable.
"Prices are rising, even though we should see those gains moderating," Scott Brown, chief economist at a Florida-based financial advisory firm, told Bloomberg. "You're still talking about double-digit percentage increases, which aren't going to be sustainable over the long term."
The S&P/Case-Shiller index looks at property values in 20 cities, all of which saw gains in January compared to the year prior. Las Vegas and San Francisco led the pack with a 24.9 percent and 23.1 percent rise in prices, respectively.