Like most residential real estate professionals, you likely know that there's more to a home's appeal than its granite countertops and hard wood floors. Homebuyers today follow the mantra of "location, location, location" with resounding commitment, especially when it comes to schools. This may require you to do a little—or a lot—of research prior to showing or marketing a home.
In fact, according to the 2012 National Association of REALTORS® Profile of Home Buyers and Sellers, 25 percent of homebuyers listed school quality and 19 percent listed school proximity as deciding factors in a home purchase.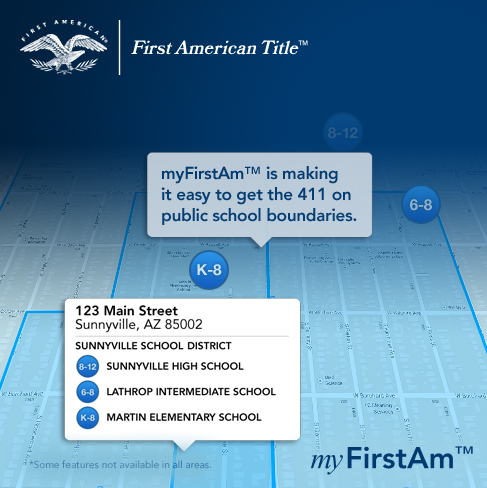 That's where myFirstAm™ comes in. You're likely already familiar with our innovative tool for residential real estate transactions, but the system you depend on for comprehensive property information* just got a little better.
With its new release, available now in the app store, myFirstAm will allow you to quickly identify the school zones** and the specific schools associated with those zones for a particular property, so you can make sure your homebuyers have the information that matters to their family. myFirstAm will even display the current ratings from associated elementary, middle and high schools. These ratings are displayed as statewide percentile levels, which are compiled by comparing scores in reading and math over a three-year period.
The "School Attendance Zones" option is available via the current version of the iOS app, available now in the iTunes store. With the 2014 spring/summer buying season nearly upon us, no doubt this new feature will be a timely and welcome addition to the suite of services available with myFirstAm.
*Fees may apply. Not available where prohibited by law.
**From the first product release school district boundaries will be available nationwide. School attendance zone boundaries will be available for many major metro areas in the first release with growing coverage every quarter. Please contact us to get the latest school attendance zone coverage information.