Happy third birthday to our favorite technology, which is "growing up" before our eyes! This year has been a big year for myFirstAm®, First American's innovative Web portal and mobile app for real estate transactions.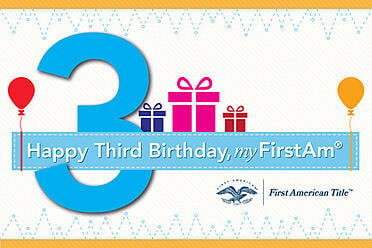 From its launch in 2011, myFirstAm has been helping residential real estate professionals "work easier," by offering a comprehensive tool that tracks title/escrow orders and enables users to get quality, comprehensive property information from any internet connection. Since 2011, real estate professionals across the country have used myFirstAm's powerful data and tracking features to streamline their transactions.
As myFirstAm turns three, real estate professionals are working "easier" than ever before. Over the past year, First American has enhanced the platform to allow for integrative solutions like the export of property information* to cloud-based services like Google Drive, Dropbox and Evernote.
Not to mention that myFirstAm's iOS app has seen some major enhancements. Users are now able to AirPrint property reports directly from the iOS app, and in many areas, school zone boundary information* is now available when accessing property information from the app.
Not to let iOS have all the fun, First American released the myFirstAm app in Google Play last May, providing a native app solution for Android-using professionals.
Along with growth, of course, comes increased efficiency. This year, myFirstAm has increased the speed of creating combined reports and generating property reports*, so users can work faster as well as easier. Plus, an increased number of export fields for data now gives real estate professionals enhanced farming capabilities.
Happy birthday, myFirstAm. We can't wait to see where this next year takes us!
* Fees may apply. Not available where prohibited by law