February is here, along with all the hearts, chocolates and roses that Cupid tends to send our way this time of year. At First American, what we LOVE most is making the home-buying process easier for buyers, sellers and real estate professionals. That's why we created myFirstAm.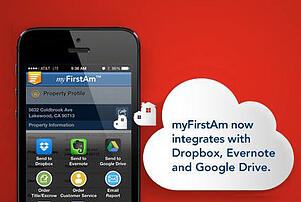 We're not looking to make Cupid jealous, but real estate professionals around the country are falling in love with myFirstAm, with its easy-to-use design and powerful data sources. Here are five reasons you should fall in love with myFirstAm as well:
1. Order information is available anytime.
With myFirstAm, you never need to wonder about the status of your orders. Your title/escrow order details are available anytime, from anywhere. You can even enable your account to place an order electronically – quickly and easily.
2. Property information, property information and more property information*.
At First American, we know that information is power. That's why myFirstAm provides comprehensive property information, including property profiles, reports and even associated docs. Our data covers approximately 145 million parcels and 3,100 counties nationwide, accounting for more than 99 percent of U.S. properties.
3. Residential comp reports are easy.
Need a quick residential comparable sales report? With myFirstAm™, that's no problem. Our innovative app compiles properties based on your geographic location, and then allows you to pick and choose which properties to include in your report. Your customized report may then be emailed for instant access.
4. It integrates with cloud-based storage products.
Are you constantly using Dropbox, Evernote or Google Docs? myFirstAm integrates seamlessly into these programs when you use the iOS app. That means you can quickly upload property info into your cloud storage account for easy reference.
5. It's available whenever, wherever.
myFirstAm is an online web portal, a mobile-optimized website and a native iOS and Android app. That means that, wherever you are, you can access certain myFirstAm features using one common username and password. Get GPS-based property information from your smartphone while showing a property or create a polygon farm on your laptop at home**. The possibilities are endless with myFirstAm.
This Valentine's Day, show your real estate transactions (and customers!) a little love with myFirstAm. Click here to get started (and tell Cupid we sent you).
*Fees may apply. Not available where prohibited by law.
**Not all myFirstAm features are available on every device. Not all features are available in all areas.