Staying organized is easier said than done – especially when you're a busy, on-the-go real estate professional. To help facilitate better organization, some real estate agents have turned to leveraging cloud-based services that boost efficiency and productivity, while at the same time helping them go paperless.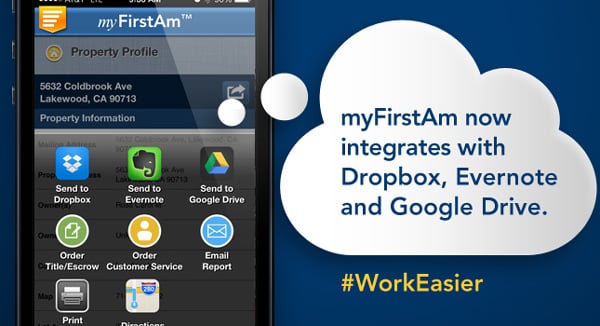 Are you already using Dropbox to share listing presentations, contracts and photos with clients? Have you created Evernote notebooks for your sellers, buyers and transactions? Have you enabled Evernote sharing for your assistant or support staff? Are you storing transaction checklists, activity plans, document templates and audio client interviews on Google Drive? And do you expect access to all of this content across a multitude of devices including your desktop computer, smartphone and tablet for you and your clients? What if you could add your property research information to these same locations?
myFirstAm™ for iPhone® and iPad® now includes integrations with Dropbox, Evernote, and Google Drive. This new update to your favorite real estate app allows you to send property profile cover sheets, transaction history, comparable sales and other reports directly to your cloud service folders, notebooks or storage locations.
This means it's easier than ever to keep your property research in context with the appropriate client or transaction. Whether you're validating ownership information, determining property characteristics or locating last sale data, myFirstAm helps you stay organized and productive by allowing you to send property reports to the cloud from any device.
myFirstAm. Work Easier.