According to a recent report by CoreLogic, January 2013 saw the pending supply, or shadow inventory, of homes for sale down 28 percent from its all time high in January 2010. Shadow inventory is the combined number of homes that are seriously delinquent on a mortgage payment, in foreclosure proceedings or owned by the mortgage servicer (REO), but not currently listed on the market for sale.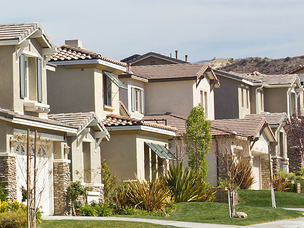 National trends
"The shadow inventory is declining steadily as properties are moving through the distressed pipeline," said chief economist for CoreLogic, Dr. Mark Fleming. "States like Arizona, California and Colorado are experiencing significant declines year over year in the stock of serious delinquencies, a positive sign for further improvement in the shadow inventory."
There were 2.2 million homes in the pending supply by January 2013. Nearly half had not yet entered formal foreclosure proceedings but were delinquent on payment, according to the report. REO properties constituted the smallest share of the shadow inventory in January 2013: The 342,000 bank-owned properties made up approximately 13 percent of supply.
The monetary value of shadow inventory has also been falling nationally. In January 2013 the value of homes in the pending supply was $350 billion, representing an annual decrease of $50 billion from January 2012 and a six-month decrease of $31 billion.
Prices on the rise
According to the S&P/Case-Shiller 20-city composite index, housing prices pushed up 0.1 percent in January 2013, bringing the year-on-year increase to 8.1 percent. The level is the index's largest increase since September 2010, and comes from the strongest growth rate seen since June 2006.
Demand for housing was on the rise in early 2013 and a variety of factors, such as an improved job market, lower household debt levels, slightly relaxed credit standards, low interest rates and a limited supply of properties, combined to stimulate prices. The revaluation of the real estate market has injected energy into other sectors of the economy, particularly in construction.
Some analysts are concerned about the 2.2 million homes still sitting in the shadow inventory, which could exert negative pricing pressure on the market in the future. On a positive note, largest section of homes in the inventory are still pre​-forclosure, as rising prices can drive up equity and allow for refinancing or sale, according to the National Association of Realtors.
Increasing home prices signal good news for the economy in general, though prospective homebuyers need to plan for the attendant increases in down​ payments, closing costs, interest assessed and taxes when creating a real estate budget.