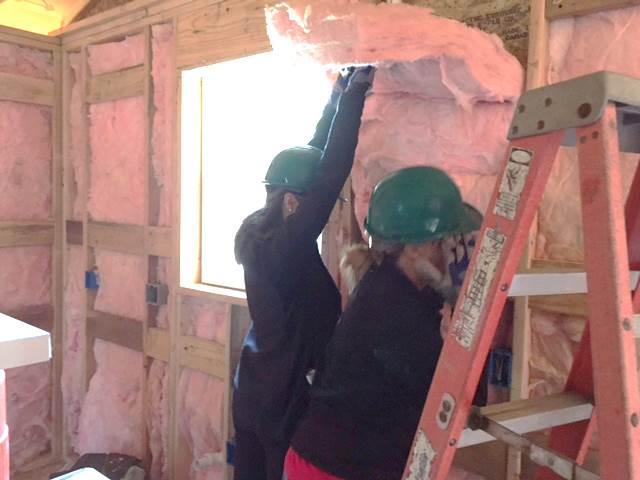 Employees from First American's St. Joseph, Mo. office participated in this year's National Women Build Week by lending a hand at a build site in their community. This year marks the ninth National Women's Build Week hosted by the non-profit organization Habitat for Humanity.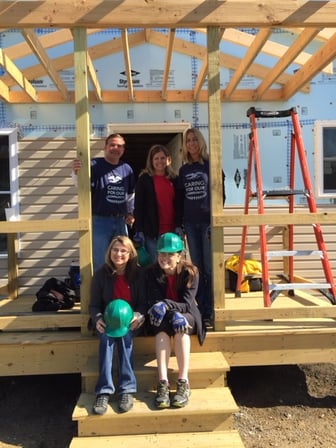 The Women Build program began in 1998 as a way to empower women to take action against impoverished housing conditions by learning construction skills and practices. The program hosted its first-ever National Women Build Week in 2008 to great success. Since then, more than 80,000 women from all 50 states have volunteered during National Women Build Weeks. The goal of Women Build Week is to bring women from different communities together to address the housing crisis faced by millions across the globe.
The St. Joseph employees worked on a Habitat house in the early stages of construction. The team spent the morning and afternoon installing insulation, as well as measuring and hanging drywall. Nearly all the female employees from the St. Joseph team were able to participate in the event, and the office's two male employees pitched in as well. "These builds encourage women to get involved in a field that's not considered the 'norm' for us," said administrative assistant Nancy Pitts. "They're a great opportunity for women to prove both to ourselves and to others that we're capable of not only doing construction work but enjoying it."
---
"We plan to participate in more Women Build Weeks in the future," said Nancy. "It's a good cause that helps out folks in need of affordable and secure housing."
---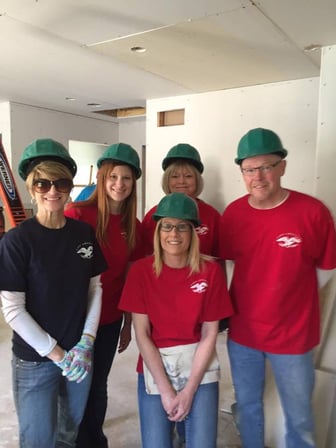 Community development is an important cause for First American, which supports organizations that work to create and sustain affordable housing for low-income families. In 2015 alone, company employees took part in 23 team builds for Habitat for Humanity, with 432 participants giving more than 3,456 volunteer hours.
Additionally, First American supports charities that provide benefits, programs, and services that promote women's health, professional growth and quality of life. Besides empowering women by encouraging them to break the stereotype of construction work as a 'masculine' profession, Women Build Week shines a spotlight on the homeownership challenges many women face. The program's focus on female empowerment resonates with First American's dedication to women's advocacy.
The St. Joseph office is no stranger to the local Habitat for Humanity branch. "Our office works closely with our community Habitat. We do a lot of their title work," said Nancy. The St. Joseph team also participates in several Habitat for Humanity builds every year as a way to give back to the community. This is the office's second year taking part in National Women Build Week. "We plan to participate in more Women Build Weeks in the future," said Nancy. "It's a good cause that helps out folks in need of affordable and secure housing."