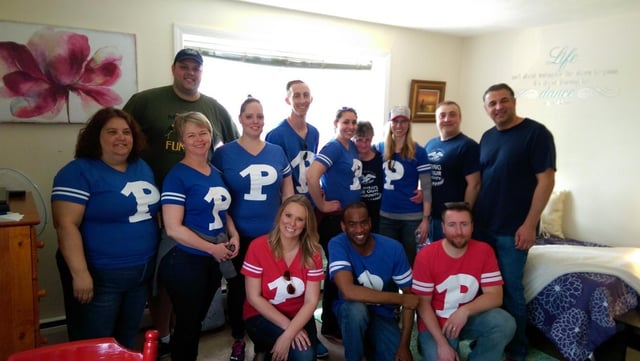 Recently, First American's Boston-based National Commercial Services (NCS) team participated in its annual Up & Out event. Up & Out is one of many programs offered by Heading Home, a non-profit organization that provides emergency, transitional, and permanent housing to families in the New England area.
The program pairs volunteer groups with people making the move from shelters to permanent housing. Volunteers ready the housing space by cleaning and furnishing the various rooms to create a personalized home. The group then welcomes the new homeowners and presents them with the keys to their home.
The Boston NCS team readied an apartment for a young woman who had just aged out of foster care. "We met with her weeks prior so we could learn about her and truly personalize her experience and her new home," said senior commercial title assistant Courtney Mancone. The team hoped to create a customized living space to mark the beginning of a new chapter in the homeowner's life.
---
"To be able to help another family or person go from feeling hopeless to hopeful is truly inspiring and filled all of our hearts with joy!"
---
Volunteers spent the morning preparing the apartment for the young woman's arrival by cleaning the space, assembling furniture, decorating the rooms and stocking the pantry and fridge. Their efforts transformed the space into a bright and colorful home and elicited an emotional response from the new homeowner. "She was very happy and overjoyed by the entire event," Courtney recalled.
Community development is an important cause for First American. Both the company and its employees support organizations that work to create and sustain affordable housing for low-income families. Heading Home shares this commitment to the community. Since 2006, the organization successfully created more than 350 units of housing, and for ten consecutive years, 90 percent of residents in their permanent housing programs remained successfully housed a year later.
The Boston NCS team began working with Heading Home in 2014 and has since participated in a variety of volunteer events to support the organization. "Heading Home means a lot to us not only as people, as mothers, fathers or individuals but also as team members and employees of First American," said Courtney. "To be able to help another family or person go from feeling hopeless to hopeful is truly inspiring and filled all of our hearts with joy!"