Do you know a buyer looking to relocate? When selecting a new locale, homebuyers might consider home prices, per capita income, educational opportunities or employment rates. But if your customers are alone this Valentine's Day, perhaps it's time to consider the romance quotient.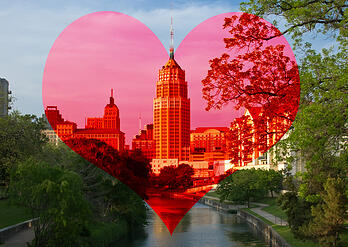 That's right, according to a new Amazon.com survey, some U.S. cities might just be more romantic than others. And if your buyers are single, that could be a motivating factor when they're looking to relocate or settle down. The online retailer based their list on the romantic quality of products purchased – like romance novels and romantic movies and music. And guess who's been listening to more than their fair share of Barry White?
San Antonio was named the United States' most romantic city, followed closely by Seattle, Knoxville, Tenn., Miami and Alexandria, Va.
Lucky for romance-driven relocators, the San Antonio housing market isn't lagging. According to the most recent NAHB/First American Leading Market Index, the San Antonio metropolitan statistical area is running at 97 percent of normal market activity, with employment rates at 96 percent of "normal."
. @NAHBhome / First American Leading Markets Index (LMI) released - http://t.co/DY4Op9FQDC pic.twitter.com/TQ8B7EcqyD

— First American (@FirstAm) February 6, 2014
Seattle's not a bad choice either, and we already know that Tom Hanks and Meg Ryan successfully found love in the rainy city. Currently operating at 94 of normal economic activity, buyers might find opportunities abounding in the country's second most romantic city.
Of course, relocating – even for the most romantic of reasons – has its challenges. Locating and buying a home can be a complex process in any situation, made even more complex if your customers are out of state. At First American, we help create smoother, more streamlined home closing experiences. That's because we're constantly working to develop new technologies and processes that make the title and settlement process easier.
If your customers are looking for love – or just hard wood floors and a great yard with a patio – First American is here to help them "close" their American dream. And what could be more romantic than that?