In April, First American Chief Innovation Officer Paul Hurst participated in a panel discussion at Inman Connect in New York, discussing the shifting capital environment for public and private proptech companies. Hurst offers some highlights from the panel discussion, discusses what the re-rating of proptech valuations means for the pace of real estate innovation in 2022, and shares insights from his conversations with other leading real estate innovators at the conference.
"We are still in the early innings of the digitization of the real estate transaction. It would be incorrect to take the current weakness in the valuations of public proptech companies as a sign that the pace of innovation is slowing down. The trend towards a more digital real estate transaction will continue to build momentum in the months and years ahead."
Question: How is 2022 different than 2021 for proptech companies?
"Certainly 2021 was a banner year for proptechs and their valuations on public financial markets. Many proptechs leveraged opportunities to tap additional capital by going public through Special Purpose Acquisition Companies (SPACs) or through traditional initial public offerings. At the time, it was a less expensive way for companies to access large sums of capital to help fuel growth as compared with private capital markets.
However, in 2022, the valuations of companies across a variety of industry sectors that went public via a SPAC have been hit particularly hard. Real estate technology companies that went public through SPACs have also seen their share prices decline since the beginning of 2022."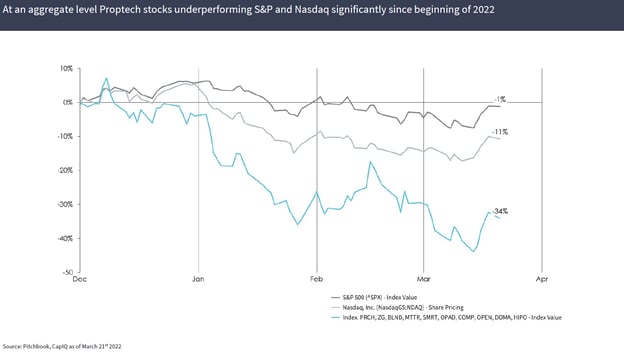 Question: What does the different environment mean for proptech companies in 2022?
"Undoubtedly, I think you will see a slowdown in the number of real estate companies going public in the next 12 to 24 months, partly because the capital is no longer as "cheap" relative to private financing, and partly because the public markets are currently a much more uncertain path for companies seeking capital, with a number of recently announced SPAC transactions falling apart prior to completion.

As real estate companies pursue more capital to fuel their growth, given the significant compression in public market proptech multiples compared with six months ago, I suspect "flat" is the new "up" for valuations. This will be particularly true for companies that were heavily reliant on refinance transactions for revenue.

However, companies with a strong product and experienced leadership teams that are focused more on residential purchase business or commercial real estate will continue to raise capital at high valuations because there is still an historic amount of growth capital sitting in venture capital funds and a shortage of great companies."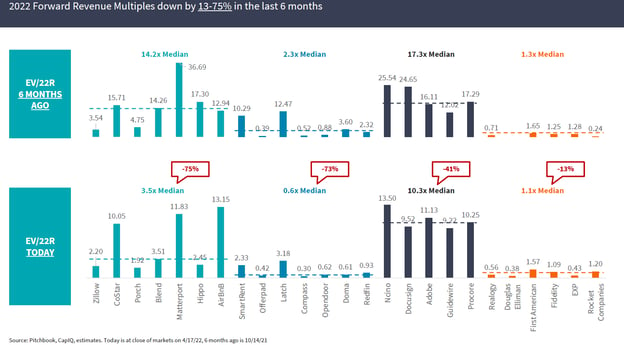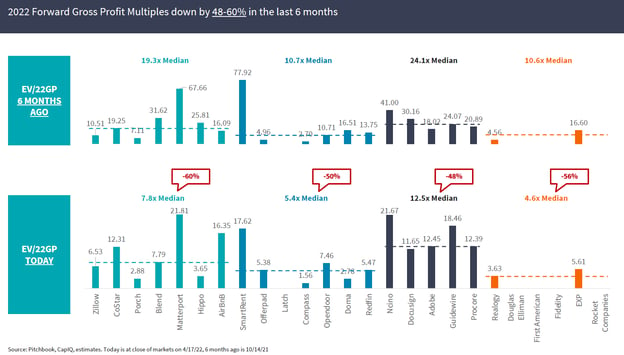 Question: What does this mean for the pace of real estate innovation?
"The venture capital investors I speak to are still very long on the digitization of residential and commercial real estate and these funds typically have a 7-to-10-year investment horizon, so I don't envision a dramatic drop in the amount of capital being deployed. However, it is possible that funding becomes more binary. Great companies with strong growth metrics and experienced teams will still get funding, but average companies may struggle. Ultimately, this is likely to lead to the creation of a more durable set of real estate technology companies.
More broadly, there is a danger that some incumbents may lose their sense of urgency to innovate. Throughout 2020 and 2021, I saw a number of these businesses make meaningful investments to digitize and automate. Some incumbents may decide it's wise to scale back their innovation plans. In my eyes, that is not a wise move, as the trend towards a more digital real estate transaction experience will continue to build momentum in the months and years ahead. Given the shifting environment, the competition for top technology talent is perhaps more evenly balanced between incumbents and startups than it has been historically, so I hope that more incumbent companies follow First American's lead and continue to make sustained long-term investments in innovation to drive the industry forward."
Question: What other insights can you share from your discussions with other leading real estate innovators at Inman Connect?
"The shifting economic outlook and how it may impact the real estate industry and innovation was a hot topic. Many of the conference participants were leaders or representatives of companies that support real estate agents, so the conversations tended to focus on the residential purchase market. The overwhelming consensus seemed to be that residential purchase transactions, while impacted by rising mortgage rates, are driven as much by demographics and lifestyle choices, and so are more resilient to the upward shift in mortgage rates.
The increasing role that institutional "all-cash" buyers are playing in many markets and continued house price appreciation were also hot topics. I expect to see an increasing role for innovative companies to a) help bridge the affordability gap through home equity investment offerings, rent-to-own services, and similar opportunities, or b) help turn home buyers into "power buyers" who can compete with all-cash investors. Real estate agents may find these types of businesses to be compelling allies in helping consumers make the jump to homeownership in the years ahead. Interestingly, while real estate agents at the conference noted that they had considered these offerings in 2020 and 2021, they were too busy to explore how they might work with them to help more consumers. One might expect that as the real estate market moderates, forward-thinking agents will find ways to bring these innovative solutions to their customers."