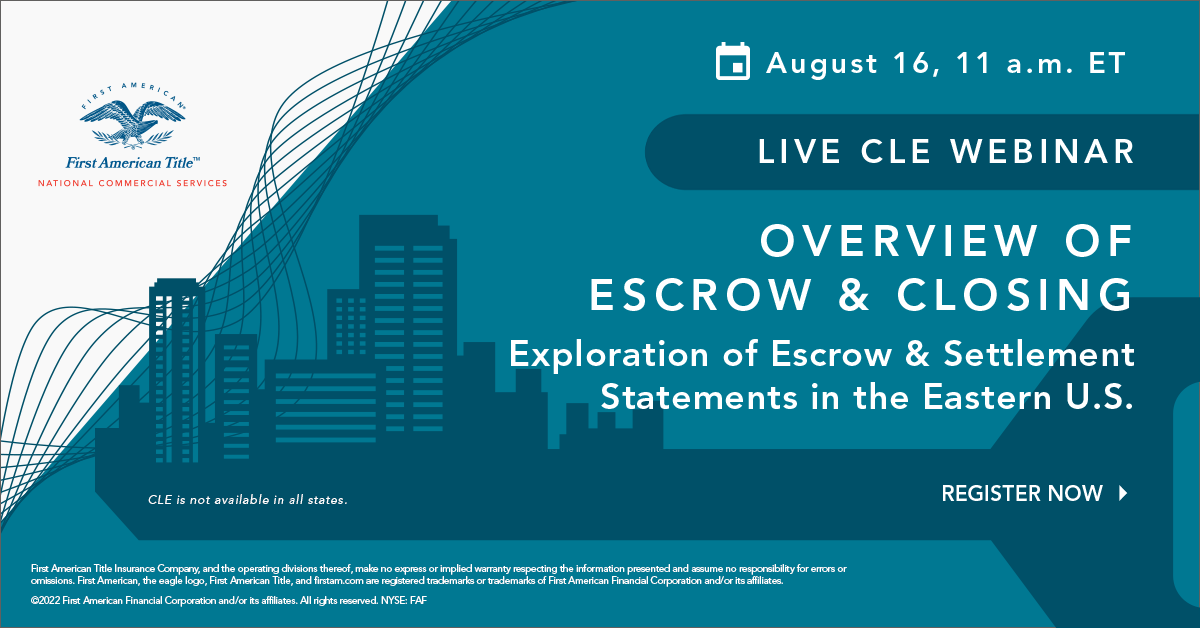 The closing process in commercial real estate transactions can be multifaceted and a bit enigmatic to those new to the industry, or for those with a new type of real estate deal. As such, an overview of the closing process – including escrow and settlement statements – can be very helpful.
An escrow is a contractual arrangement in which a third party (the stakeholder or escrow agent) receives and disburses money or property for the primary transacting parties, with the disbursement dependent on conditions agreed to by the transacting parties.
To open the escrow, several steps need to take place including earnest money deposits, early finalization of the escrow agreement, and determination of third-party depositors.
The escrow agent receives, assembles, completes, holds, and disburses documents and funds, as instructed by the transactional parties. The agent can then facilitate and confirm deliveries required for closing (pursuant to a Purchase and Sales Agreement (PSA), Closing Instructions Letter or otherwise), as defined by the parties. The same escrow agent will also issue title coverage required as a condition to closing by satisfying the title company's underwriting and other requirements for issuance of such title coverage.
Escrow Documents
Escrow documents include title documents – such as a deed, security instrument, and/or other documents affecting title to real property, usually to be recorded in the land records. Examples of other documents that parties wish to make part of the escrow include PSA documents, loan documents, third party agreements & invoices. The Closing Instructions Letter or closing instructions are part of the document package, as well as jurisdictional forms (e.g., state withholding forms, certifications relating to the value of the transferred property, or the amount secured by a security instrument for transfer/recordation tax purposes). Lastly, there are other forms or documents relating to escrow transactions or real property conveyances generally (e.g., 1099 information, state withholding forms, FIRPTA certificates, 1031 exchange documents).
Settlement Statements
A settlement statement is a document that summarizes the terms and conditions of a settlement agreement between parties.
Settlement Statements show evidence of the funds flowing in and out of escrow, including the sources (deposits from buyer, seller, or third parties), any adjustments (offsets against funds that would otherwise be deposited into escrow or disbursed to one party vs. another), the uses (transaction consideration, title premium & recording fees, loan payoffs, third party invoices, post-closing escrows, etc.), and functionally (and usually by express reference) is a part of each party's closing instructions.
Regional Differences
The escrow and closing process varies in different regions of the United States, with many states in the eastern half of the country requiring or recommending real estate attorneys to close transactions. Each state has different customs and to help educate the widest audience possible, we're hosting two webinars to share practical tips for escrow and closing commercial real estate transactions.
For the live webinars on August 16 & October 18, due to compliance restrictions, we are unable to offer CLE credit to clients located in CA and are unable to offer this webinar in IA.
* In compliance with regulations, if you wish to obtain NV CLE credit, a $15 fee will be charged.
* In compliance with regulations, if you wish to attend the webinar in the state of WA, a $15 fee will be charged.
First American Title Insurance Company, and the operating divisions thereof, make no express or implied warranty respecting the information presented and assume no responsibility for errors or omissions. First American, the eagle logo, First American Title, and firstam.com are registered trademarks or trademarks of First American Financial Corporation and/or its affiliates.