Women's Advocacy is very important to First American. Approximately 12.5 percent of all women are diagnosed with breast cancer, and since 70 percent of First American's employees are female, women's advocacy is a core cause of the #FirstAmCares program. First American supports charities that provide benefits, programs and services that promote women's health, professional growth and quality of life. and with breast cancer awareness being a huge part of Women's Advocacy,
One unique Women's Advocacy initiative was the Ragnar Relay. The Ragnar Relay initiative began with a staff member asking if First American would be interested in putting together a team for the Ragnar Northwest Passage race in Washington. Over the course of the 200-mile road relay race, each team member runs 10-20 miles in less than 36 hours, making the race the ultimate team building experience. So, the Caring Eagles team was born,. along with a partnership with the American Cancer Society (ACS) to raise funds breast cancer research and patient services nationwide.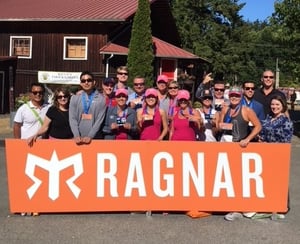 First American COO Chris Leavell joined the Caring Eagles team and CEO Dennis Gilmore stated if employee donations to this effort reached $10,000, the company would match that amount. Thanks to employees' generosity and the company match, the Caring Eagles raised more than $24,000. But it didn't stop there.
In 2019, First American employees doubled their efforts by sponsoring two Caring Eagles teams for Ragnar So Cal. In addition to supporting breast cancer research, employees included the American Heart Association (AHA) in its fund-raising efforts. The competition was on between the Pink (ACS) and Red (AHA) team, with each of the chosen team members sharing their compelling personal reasons why they were passionate about women's health. Thanks to First American's big-hearted, generous employees, the Caring Eagles together raised more than $50,000 with First American donating an additional $25,000. Since starting their mission, the Caring Eagles teams have raised more than $100,000 for women's advocacy and health awareness.
Learn more about the Caring Eagles and other #FirstAmCares events by following our Instagram @FirstAmPeople.