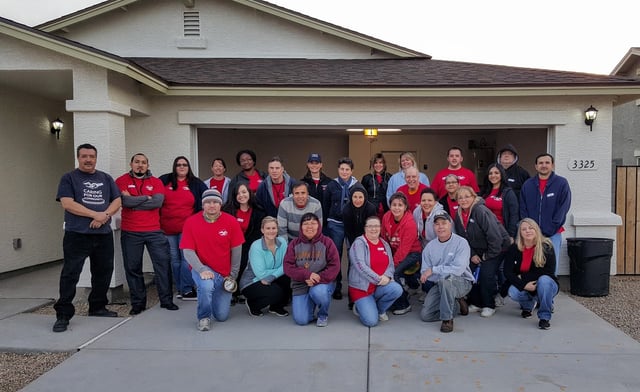 More than 30 First American employees took part in the Phoenix office's annual Habitat for Humanity home build. This is the sixth build the Phoenix team has participated in, and this year, the team worked on four neighboring properties.
"One of the best parts of the Habitat for Humanity builds is working alongside staff members from other divisions whom we don't usually get to see," said First American human resources manager Michele Bolender. "I also love watching people go from being worried about learning how to shingle a roof or hang drywall to being confident builders by lunch."
First American's Habitat for Humanity builds support of its core cause of community development, which strives to support organizations that provide affordable housing, revitalize low-to-moderate income neighborhoods and offer community services and economic development.
In 2015, 430 First American employees teamed with Habitat for Humanity on 23 builds across the country. First American's Caring for Our Community philanthropy programs plans to impact even more communities by increasing the number of builds it will sponsor through Habitat for Humanity in 2016.