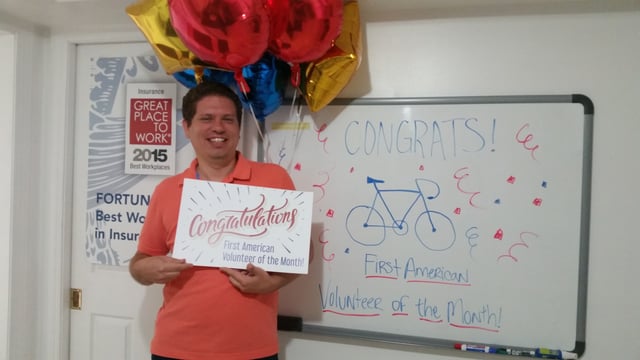 First American's Volunteer Spotlight program recognizes employees who are active in their communities. Each month, employees record their volunteer hours, and one employee is selected at random to receive a donation to the charity of their choice.
Richard Vetter, a technical product support analyst, recently participated in the Great Bicycle Tour to benefit San Mar Children's Home and Foster Care, which provides appropriate structure, healthy nurture and abundant opportunities to children and youth in need. Richard biked more than 184 miles in four days to raise money for the project.
How did you get started with the Great Bicycle Tour?
I was looking for the opportunity to raise money for a worthy cause while also doing something that I really enjoyed. While looking into some of the longer charity rides I found San Mar's Great Bicycle Tour. I decided on this one because it was one of the only races that benefited the local community directly. San Mar provides foster care and community outreach to keep children from being removed from their families. They also recently opened a children's health clinic as well.
What do you find most rewarding about your experience?
Not only did I get to do what I love doing, but I also got to raise money for a very worthwhile group. I got to meet people that really care about what they are doing and have affected many lives. Some of my fellow riders have been doing it since childhood and have been growing up doing the ride. It was like joining into a new family.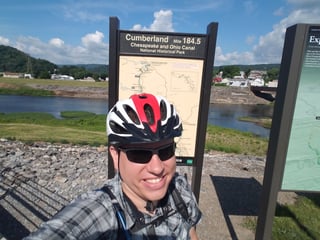 What has surprised you most about your time with this group?
I never really thought of the expense and effort it takes to care for children that are in foster care or have behavioral issues. It is very expensive and very few groups do it right. San Mar has been one of the best run non-profits I have ever come across. It was a group that truly cared about the children and their success.
What do you hope to accomplish with this group in the future?
My goal is to ride with them again next year and double the amount of money I raised.

What advice would you have for someone interested in donating his or her time?
You can find many ways to donate your time and many local charity groups have ride or run events that are major fundraisers for them. These events are usually geared for all ages to enjoy. For example, my ride had riders as young as 10 and old as in their 70s. If you love to bike and want to help out, please check out C&O Canal Bike Ride: San Mar Bike Ride. Sign-up usually opens up in December for next summer's ride.