First American's Volunteer Spotlight program recognizes employees who share their time and expertise with their communities. Each month, employees record their volunteer hours, and one employee is selected at random to receive a donation to the charity of their choice. First American is committed to supporting employees as they are active in the communities where they live and work. To read more about First American's philanthropy efforts, visit our blog.
Jerry Warzyn, a Wisconsin-based underwriting counsel, Wisconsin, volunteers with the BESTD Clinic in Milwaukee, which combats sexually transmitted diseases through education, counseling, testing, diagnosis and treatment.
How did you get started volunteering?
I started volunteering with the BESTD Clinic in Milwaukee in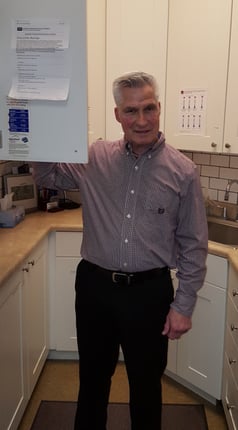 1984 when a volunteer I knew requested help with posting clinical test results to patient's charts. Little did I know that my initial 1 hour per week or so commitment would extend to more than 30 years. I've held several roles, including a weekly commitment as a night manager, ordering supplies, coordinating and training new volunteers, working with the Milwaukee Health Department, and other tasks that may come up. I also have served the Clinic's Board of Directors for a number of terms.
What do you find most rewarding about your volunteer work?
The BESTD clinic is a unique institution in that it is totally volunteer run, with no paid staff. As a result, everyone who works at the clinic has no agenda other than providing services to our clients/patients. It's most rewarding to work with both health care professionals and trained volunteers in such a cooperative atmosphere. Everyone has a great attitude, and even though some nights we are somewhat overwhelmed with patients, everyone stays as late as necessary to make sure every patient we have signed up is seen by a health care provider. We don't charge for any of our specialized services, which addresses a vital need in the current health care environment.
What has surprised you most about your time volunteering?
The mix of volunteers serving our clinic is truly eclectic. We have volunteers from all backgrounds ranging in age from 18 to 70. And the level of professionalism among all the volunteers always commands my respect. I am constantly reminded of the clinic's success when a patient leaves the clinic thanking "us" for being there. I also am surprised that the clinic's reputation extends far beyond the city, as we have patients traveling from the suburbs and beyond and even from out of state.
What do you hope to accomplish with your volunteer work in the future?
I hope to remain a volunteer for a number of years to come. I've been volunteering at the clinic for such a long period that I have expertise I plan to continue to share with new volunteers. I would be very happy if the need for some of the clinic's work would no longer be necessary. However, one of our physician volunteers recounted to me a couple of years ago the following: "I just saw a patient who told me that his father had visited the clinic in the past and told him to go to BESTD as well." So I expect the clinic will continue to evolve to serve the needs of the community.
What advice would you have for someone who's interested in donating his or her time?
Ask friends or family members if they volunteer and would introduce you to their charity. Also, most cities have organizations that provide monthly lists of nonprofits with volunteer opportunities available in your community. Finally, you do not need special talents to be a volunteer, only the willingness to devote the time and effort. Believe me, you will be welcomed warmly by most organizations who will both train you and find a place for you to serve. I have seen numerous volunteers with different skill sets come and go over the years and each one has found their service rewarding.