First American's Volunteer Spotlight program recognizes employees who are active in their communities. Each month, employees record their volunteer hours, and one employee is selected at random to receive a donation to the charity of their choice.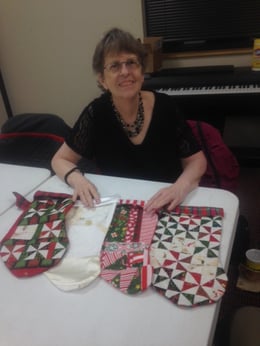 Deborah Putman, a senior IT project manager in Westlake volunteers her time with a number of groups in her local community. She elected to give on behalf of First American to Knight-Light Charities, a group dedicated to assisting individuals and families that have a temporary crisis in the communities of Denton County, Texas. This organization is run entirely by volunteers. Funding expenses are provided by the Board of Directors so that 100% of the contributions go back to the community.
How did you get started with the groups you volunteer with?
I joined the Women's Club at St. Philip's when I moved to Lewisville 15 years ago, where I attended a meeting and felt at home immediately. Through my work with the organization, I began making Christmas stockings for Ronald McDonald House. I also recently kicked off a project to make clothing for children in our sister parish in Haiti.
Several years ago I heard of an organization called Quilts of Valor, which makes quilts for wounded soldiers. Being a quilter, I began making quilts for the program. The quilts that are currently being made are going to female soldiers suffering from PTSD.
What do you find most rewarding about your volunteer work?
I feel my life is truly blessed. I'm in good health, have a job that I love, and feel totally connected to my community. I also feel so fortunate that I have found a way to give back while doing something that I am passionate about. It isn't unusual for me to wake up at 4:30 or 5:00 in the morning so I can work on these projects for a little while before I leave for work. It seems to make the day start off on an even better note. It's also heartwarming being able to offer a little bit of comfort to those in need.
What has surprised you most about your time with these groups?
Undoubtedly, it is the friendships I have developed, both within this organization and within the quilting group to which I belong. Within a year of becoming involved with both groups, I felt a kinship that I had not felt for 20 years prior to that point. It is truly a feeling of 'home'. I know I can call on these ladies in times of need and feel they are equally calling on me when they need help.
What do you hope to accomplish with these groups in the future?
I plan to retire later this year which will give me even more time to devote to these projects. As a matter of fact, I have reservations for a condo in New Mexico starting 3 days after I leave. I plan on packing up a couple of sewing machines, a bunch of fabric and enjoying a month in the mountains. (Don't worry, there's much more than sewing on the agenda!) When I was there a couple of years ago, I looked up from the breakfast table to see a deer looking at me from the back porch. I guess he was hungry too.
What advice would you have for another First American employee who's interested in donating his or her time?
Find what you are passionate about and extend that talent outside of your normal realm. It doesn't have to be a huge commitment, it doesn't have to be perfect, it just needs to be you. Take it one step at a time and start building. What you will receive back is so much better and bigger than what you give.