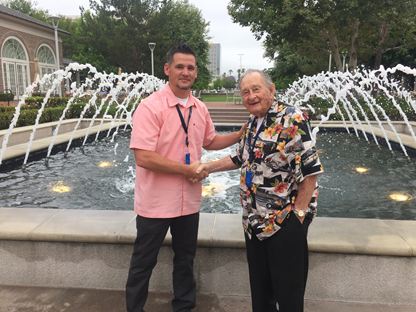 (Britt Schron, pictured left, with colleague Bob Blankman at First American's Santa Ana campus.)
First American's Volunteer Spotlight program recognizes employees who share their time and expertise with their communities. Each month, employees record their volunteer hours, and one employee is selected at random to receive a donation to the charity of their choice. First American is committed to supporting employees as they are active in the communities where they live and work. To read more about First American's philanthropy efforts, visit our blog.
Britt Schron, First American's Santa Ana-based creative director in Santa Ana, California, volunteers with the Boy Scouts of America, helping to support programs for young people that build character, trains them in the responsibilities of participating citizenship and develops personal fitness.
How did you get started with Boys Scouts of America?
I grew up in Scouting and knew that I wanted my kids to do the same. My oldest son joined as a Cub Scout. I signed up to be an assistant den leader and haven't looked back since.
I also volunteer with a non-profit homeschool co-op my wife started. In both cases, I got involved to better the experience my kids have with this organization. I love working hard to give them the best that I can. There is ultimately an economy of scale here. My effort for my kids ultimately benefits the other kids and families attached in these programs. We are fortunate to be serving about 100 kids and 70 families between the two.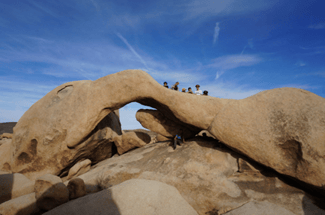 What do you find most rewarding about your volunteer work?
I really like being able to use my talents and skills to bless others. Both organizations give me a forum to influence kids in the prime of adolescence. I love sharing my experiences and knowledge with them to hopefully teach and inspire them in their lives. I get to make an impact at a time when it really counts.

What has surprised you most about your time with this group?
The biggest surprise is that I am either not as fast at accomplishing tasks as I think I am… or that I am horrible at estimating how much work I can complete when there is a stack of things that either organization needs to get done. I can routinely spend an extra 20-50 hours of my nights and weekend trying to keep up. There is always something that needs doing.
What do you hope to accomplish with this group in the future?
As I mentioned before, both organizations focus on mentoring and teaching youth. I can be a positive influence in their lives and a good role model for them. I hope that helps their development as adults and maybe spares them some of the struggles I experienced growing up. I also love spending time with them. I get to introduce many of them to activities, concepts and places they might not be exposed to otherwise. Just as an example, my Boy Scouts have built and slept in an igloo, explored the mud caves of Anza Borrego, backpacked 10,000-13,000 peaks, and gone to numerous national parks—Sequoia and Kings Canyon, Zion, Joshua Tree and Death Valley just this year alone.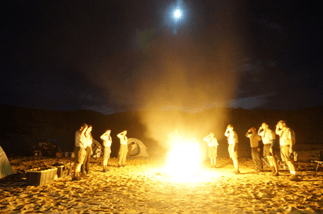 What advice would you have for another First American employee who's interested in donating his or her time?
Do it! Ultimately for me, this is youth ministry. Kids are impressionable and in tremendous need of good influences at this tough time in their lives. It is far too easy to be consumed by the "iCulture" that we live in. Serving others is a very humbling experience that helps break some of our selfish tendencies. Do it for the right reasons and not for the recognition or thanks. It won't come often, if ever, and it will never seem proportionate to the effort.