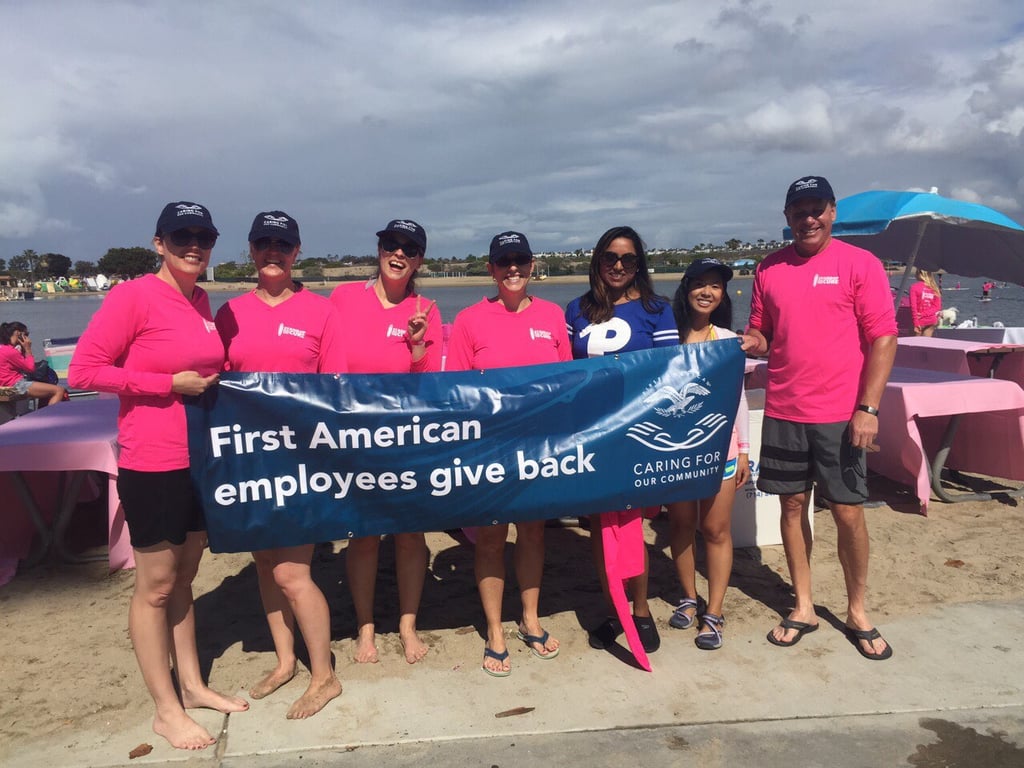 First American employees took part in the 5th Annual Standup for the Cure in Newport Beach, Calif., in May. Standup refers to standup paddle boarding, a second cousin to surfing, where riders stand upright on a board and paddle themselves through the water. The event helps to raise money for local efforts in breast cancer awareness, treatment and research.
"This event was a blast," said Mary Biljanic, a marketing content specialist in First American's Mortgage Solutions division. "Not only was it a great workout for a great cause, it gave me the chance to bond with some of the co-workers I don't get to see every day. I'd do it again, and I'd recommend it to anyone who enjoys paddle boarding, even first timers."
More than 1,000 people attended the event, which featured free breast and skin cancer screenings, paddle boarding lessons, a paddle board yoga class, live music, barbecue from the Newport Rib Company, a silent auction and races—kids and dogs included.
"This was my first time paddle boarding," said Asha Alexander, an IT category manager in Strategic Sourcing and Procurement. "I was impressed with how patient and supportive the pro paddlers were. There were also some great vendor booths there, and it was so easy to get in and out of, the event didn't feel crowded at all."
Proceeds from the event benefitted local affiliates of the Susan G. Komen Foundation. Affiliates use 75 percent of the funds they receive to support local education, screening, diagnostics, treatment and survivor programs, while the remaining 25 percent is invested in global breast cancer research. The Newport Beach event is one of four standup events in the U.S. that partner with the Komen Foundation. Combined with proceeds from the upcoming Miami, New York and Muskegon, Mich., events, Stand Up for the Cure will raise $100,000 this year.
Breast cancer awareness, and women's advocacy in general, is an important cause for First American. Approximately 70 percent of its employees are women so First American supports organizations and initiatives that address women's health, family and welfare issues. In 2015 alone, First American and its employees raised more than $125,000 for breast cancer awareness.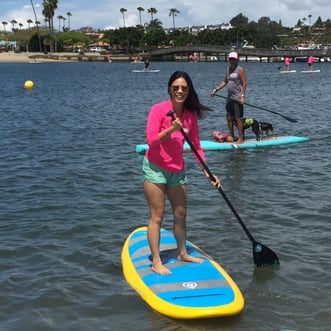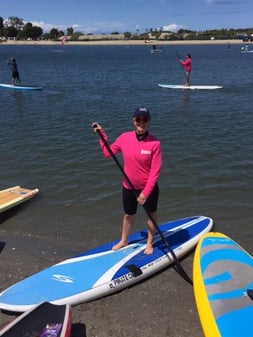 Trade show manager Vicky Nguyen and marketing content specialist Mary Biljanic show off their paddle boarding skills.