Winter isn't traditionally the most popular time of the year to sell a house; the weather is cold and gray, and there's a good chance it will keep potential buyers from wanting to get out to look at homes. Spring is the most popular season for homebuying, but that doesn't mean you're out of luck if you're looking to sell now.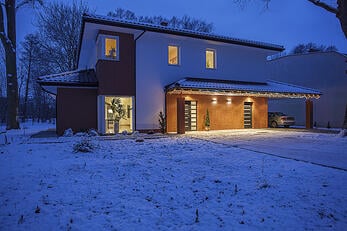 Making a to-do list that is tailored to the season and its weather, especially for the open house, can help you effectively market your home. Here are some tips to keep in mind for hosting the most successful winter open house – whether you're taking the "for sale by owner" route or using a real estate professional:
Stay warm: This trick applies in a variety of ways. First, in a literal sense, be sure your home is set at a warm temperature when it's time for the open house. It doesn't have to be hot, but it should not be cold. Shivering buyers are less likely to enjoy their visit, will probably leave early and may be put off from making an offer. In addition, seek to make your house warm in the welcoming sense. A cozy environment will likely entice buyers to stick around and can definitely make the home seem more appealing. If you have a gas fireplace or clean-burning woodstove, lighting it is a good way to make your place feel like home. You might also want to add warm accessories, like blankets on the couch and chairs.

Clear and clean the walkways: We all know what entryway floors usually look like in the wintertime. Boots and shoes track in snow, dirt and salt, leaving a wet, sloppy mess everywhere. With potential buyers coming inside to look at the house all day, you'll have to be especially vigilant about this. Their first impression may be negative if they're greeted by a dirty, slippery floor, so go over it with a mop between every showing. And don't forget about the outside! Potential buyers shouldn't have to slip and slide on a sheet of ice to get to your front door. Shovel out the snow and spread some rock salt to make a more welcoming walkway.

Track the weather: Is the weather outside frightful? You'll want to keep an eye on the weather forecast in case your open house is scheduled, say, the same day your area is expected to get a massive snowstorm. Stay on top of the forecast and be flexible, since you may find it necessary to reschedule because of the weather.

Showcase the garden: Just because it's winter doesn't mean you have to give up on your garden. Structural garden elements like benches, planters and rock walls can create an attractive presentation no matter the season. Working with what you have can help potential buyers envision the yard during the spring and summer. And if that's not enough, you can show them exactly what it looks like during all seasons, by covering a bulletin board with images of the outside of the house in all four seasons. Of course, this may take some planning to get the pictures ahead of time.