Low mortgage rates and improving optimism across the country have helped entice first-time homebuyers into the market. Several recent studies have shown that in most areas, buying a home is a superior fiscal option than renting, and as a result, many lifelong renters have become homeowners. However, it's not only young people that have been tempted by the favorable market.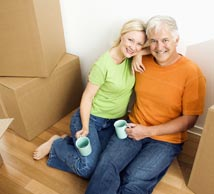 According to Fox Business, many financial advisors are recommending that their retirement-approaching clients consider buying a home to take advantage of the rock-bottom mortgage rates and improving property values. Some of these older Americans have remained out of the housing market throughout their adult lives, while others may have owned a home but sold it in the past.
Whatever the circumstances, many Americans are beginning to see the benefits of such an approach. Because home purchases are generally considered to be sound investments, some financial advisors recommend that their clients borrow money to buy a home as a source of equity during their retirement.
"Right now, affordable prices and low interest rates offer an unusual opportunity to buy a home, so we do sometimes recommend that our clients borrow against their retirement," Ben Barzideh, a wealth advisor at Piershale Financial Group, told the news source. "Owning a home is an important way to build financial security."
Indeed, older Americans often have more options available to them in terms of financing a purchase. For Americans of or near retirement age who have been saving wisely for years, it may be a good idea to use some of those funds to cover a down payment or for the closing costs involved in a home purchase. For people with 401(k) plans, this may be even easier.
"If you have a 401(k), you can borrow up to $50,000 or half of your vested balance, whichever is less," Barzideh told the news outlet. "You are required to pay back the loan with interest, though, so you'll have another debt to pay that digs into your cash flow. Some 401(k) accounts require repayment within five years."
In fact, consumer-level financial advisors aren't the only financial professionals who have been recommending a retirement home recently. No one less than Warren Buffett, often considered one of the sharpest investors in the world, recommends that retiring boomers borrow to buy their retirement homes now.
"Warren tells me that it will be the best opportunity in my lifetime," Buffett's secretary, Debbie Bosanek, recently told the Omaha World Herald. "Mortgage rates are low and prices have dropped dramatically. Getting a nice home in a great climate for only a $30,000 down payment and a mortgage that has a low interest rate - I've been working 37 years and saving for an opportunity like this."