Many factors are involved in deciding whether it is the right time to sell your house: the condition of the property, the state of your neighborhood and, of course, whether it's a good time for you and your family to move to a new location. However, perhaps even more important than any of these factors in determining whether to list your home is the overall health of the housing market.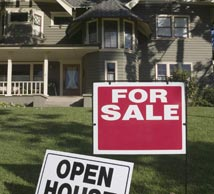 Understanding and evaluating the market is not easy, and it takes a great deal of specific knowledge to get a good idea. Ideally, you should have a reliable professional such as a real estate agent who you can go to for advice. However, there are a few things you can do to get a general sense of the market on your own.
National level
A wealth of information about the health of the housing market on a national level is readily available. Paying attention to whether sales are going up or down, if inventory is shrinking and how long an average home spends on the market can give you a rough idea of what to expect if you were to list your own home for sale.
First American and the National Association of Home Builders (NAHB) Improving Market Index and similar metrics like the S&P/Case-Shiller index regularly provide current data that can provide you with insight into the market's direction. However, the U.S. is a large country, and the market varies widely between regions, so national statistics may not be specific enough to give you a truly reliable picture.
Local level
Reading local newspapers and visiting websites that have region-by-region breakdowns of housing market trends may be a more useful approach. Sites maintained by multiple listing services like Zillow and Trulia typically allow potential sellers to explore data about fairly small regions, which can help provide an accurate picture of how the market in your backyard is doing.
Go to your agent
However, for most purposes, seeking a professional opinion about the market - and your property's position within it - is probably the best approach. Not only will doing so give you insight into the predicted direction of property values and demand, but it will also help you understand other important information about putting your home up for sale. Most agents will provide you with a list of things you can do to increase your home's value or attractiveness. Furthermore, they will likely also give you a general idea of how high the closing costs will run and what settlement services you will need before any sale can be made official.