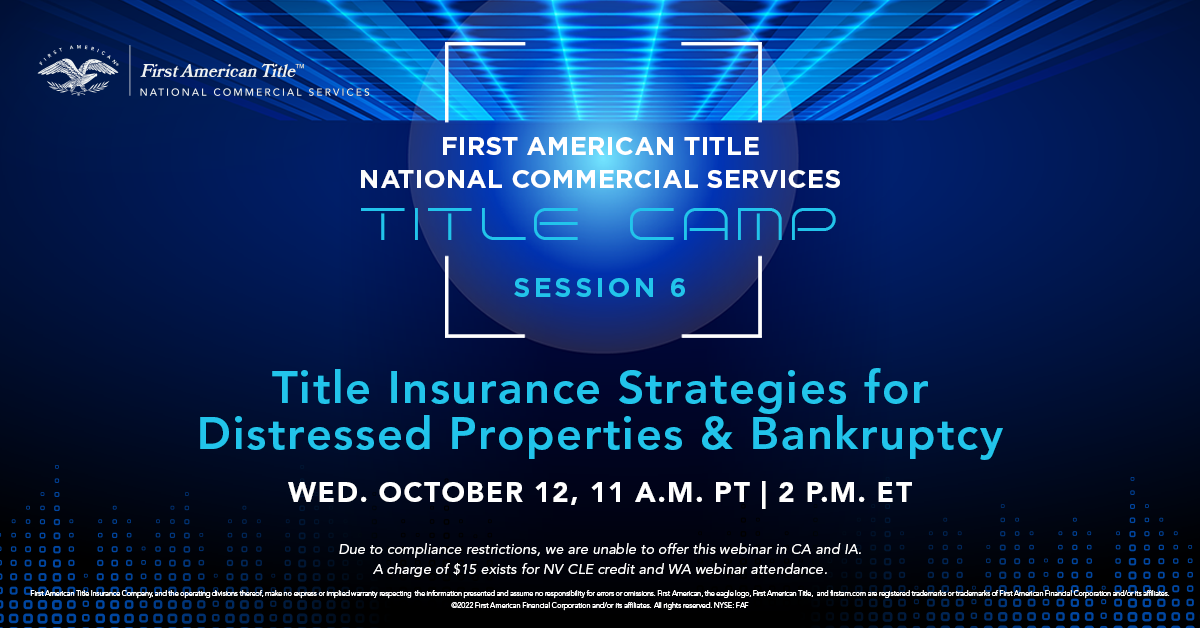 With ever-changing market conditions and increased inflation rates, the chance for distressed properties and businesses declaring bankruptcy can rise. These types of properties and business reorganizations can affect the title insurance strategies recommended for the next course of action.
Distressed Property
First, let's examine the definition of a distressed property. A property can be distressed for any number of reasons including, but not limited to, the following: foreclosed or under the process of foreclosure; REO or bank-owned property; Borrower is behind on payments; or, the value of the property is less than the amount due for mortgages/liens against the property commonly known as "underwater". Factors that play a role in property becoming distressed could be declining or no customers, tenant vacancies or declining hotel occupancy. In essence, the property no longer generates enough revenue to pay operating expenses and debt service. The owner or investors are not able or willing to make up the shortfall. Another example of distressed property is when the property itself is 'distressed' or deteriorating and has not been maintained.
There are several ways to identify the distressed property in title insurance. For instance, the title commitment may disclose: pending litigation – e.g., mortgage foreclosure, delinquent real estate taxes, divorce proceedings, multiple liens and judgments (e.g., mechanic's liens), multiple and recent mortgages, multiple mortgage assignments (special servicer may be involved), the seller or borrower is in bankruptcy and finally, the lender is named in the title.
Several common methods for disposing of distressed property exist. The first method is a short sale – an offer of a property at an asking price that is less than the amount due on the current owner's mortgage. Sale by court-appointed receiver is another method, where the buyer agrees to accept title to the property as will be conveyed by the court order conveying the title which is called a vesting order. Auction, mortgage foreclosure, and deed-in-lieu of foreclosure are the remaining methods. A deed-in-lieu occurs when the lender releases the borrower and/or guarantors from personal liability in return for transferring ownership of the property and surrendering possession of the property without going through the foreclosure process.
Bankruptcy
Bankruptcy is a legal process through which people or entities who cannot repay debts to creditors may seek relief from some or all of their debts. In most jurisdictions, bankruptcy is imposed by a court. There are several bankruptcy types including Chapter 7 – Liquidation, Chapter 9 – Municipal, Chapter 11 – Reorganization and Chapter 13 – Personal, and Chapter 11- Business Reorganization. The Automatic Stay prevents creditors from pursuing debtors and their assets from the collection of debts. For the Chapter 11 Bankruptcy, this type of reorganization may require additional capital through DIP financing or the sale of assets (section 363). DIP (Debtor in Possession) financing is used to facilitate the reorganization of a debtor-in-possession (the status of a company that has filed for bankruptcy) by allowing it to raise capital to fund its operations as its bankruptcy case runs its course. DIP financing is unique from other financing methods in that it usually has priority over existing debt, equity, and other claims.
To learn more about title insurance in relation to distressed property and bankruptcy, join our Title Camp 6 – Title Insurance Strategies for Distressed Properties and Bankruptcy webinar on October 12.
For the live webinar on October 12, due to compliance restrictions, we are unable to offer this webinar in CA & IA. CLE is not available in all states.
* In compliance with regulations, if you wish to obtain NV CLE credit, a $15 fee will be charged.
* In compliance with regulations, if you wish to attend the webinar in WA, a $15 fee will be charged.

First American Title Insurance Company, and the operating divisions thereof, make no express or implied warranty respecting the information presented and assume no responsibility for errors or omissions. First American, the eagle logo, First American Title, and firstam.com are registered trademarks or trademarks of First American Financial Corporation and/or its affiliates.