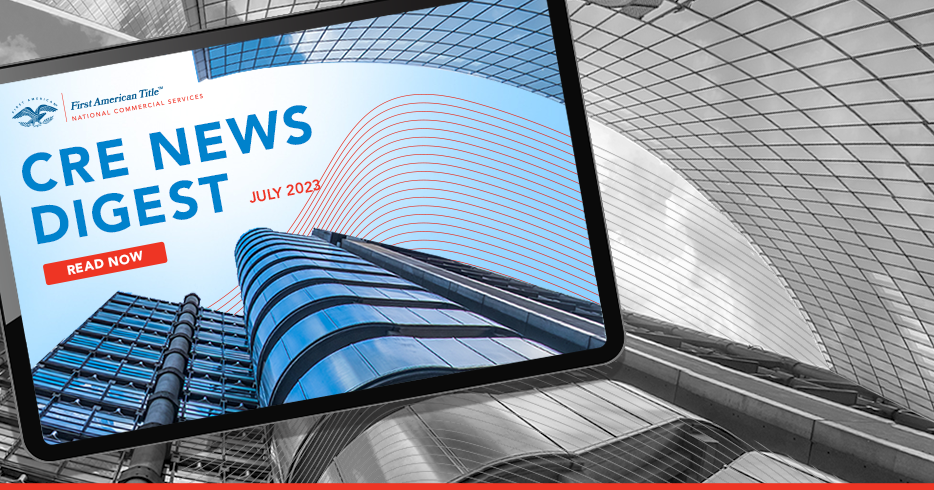 Welcome to the CRE News Digest from First American Title NCS, where we explore the biggest stories in commercial real estate. As a legacy brand working in CRE for more than 120 years, First American keenly knows the market and the forces that are impacting our clients' businesses.
Big Picture: Loans at the Forefront
Instability in the commercial lending landscape is a crucial component of what some experts see as a looming "CRE disaster". New data from S&P Global Market Intelligence reveals that in Q1 2023, the CRE loan delinquency rate increased to its highest level since 2021, with no signs of slowing in the near future.
Key industry stakeholders are evaluating their next steps. Fifth Third Bancorp is the latest bank to pull back on office lending. Goldman Sachs CEO David Solomon is preparing to take write-downs on the bank's commercial loans, sharing that "[We'll] see some impairments in the lending that would flow through our wholesale provision this quarter." Developers are also hedging against potential losses; Unibail-Rodamco-Westfield recently announced it will be leveraging refinancing risks by offering investors interest rate par swaps.
Lending woes have created both opportunities and complications for loan servicers and alternative lenders. In May, the Trepp CMBS Special Servicing Rate rose 49 basis points. First American Senior CRE Economist Xander Snyder expressed cautious optimism for growth in this sector, sharing that among the top servicers, any short-term boost to business may be offset by job losses in other divisions. In a recent analysis of construction lending, Snyder also highlights the role of "debt investors" as alternatives to traditional bank lending. However, private lenders will demand "meaningfully higher interest rates" from borrowers "... for the increased risk they bear in today's uncertain economic climate."
State of the Sector: Retail
As CRE recovers from the COVID-19 pandemic, new technologies and consumer demand for innovation is driving growth in the retail asset class. Experience-based retail centers are a growing consumer and investor favorite. These venues combine retail stores with entertainment-focused offerings ranging from food halls to speakeasies to minigolf.
Some brick-and-mortar stores are quickly adapting to the competitive market by improving and integrating their e-commerce platforms. However, growth in the sector is not without its challenges. Traditional shopping malls continue to struggle; Brookfield recently defaulted on a $225M loan for its Woodbridge Center Mall in New Jersey, and seven other Brookfield mall properties have been flagged for similar risks. While retail leaders praise the sector's relatively strong growth, some also acknowledge that more activity is needed to maintain momentum.
Innovation: Sustainability and Decarbonization in CRE
The CRE industry continues to innovate in the face of a changing climate. June brought forth a series of announcements from key stakeholders regarding their sustainability and decarbonization efforts. JLL introduced their Carbon Pathfinder technology and decarbonization consulting offering to help investors forecast climate risk. Additionally, private industrial REIT High Street Logistics Properties announced their plans to install solar panels across their properties.
As hurricane and wildfire season ramps up, stakeholders have begun to evaluate the impact of climate risk on property markets across the country. A haze of thick wildfire smoke in New York City last month spurred calls to action to update zoning laws in order to combat carbon emissions. Boston-based experts expressed similar concerns for their market at Bisnow's Boston Smart Buildings and Sustainability event on June 13th. Experts called for collaboration across the government, property management, architecture, and engineering sectors to implement green initiatives at all stages of a property's lifecycle.