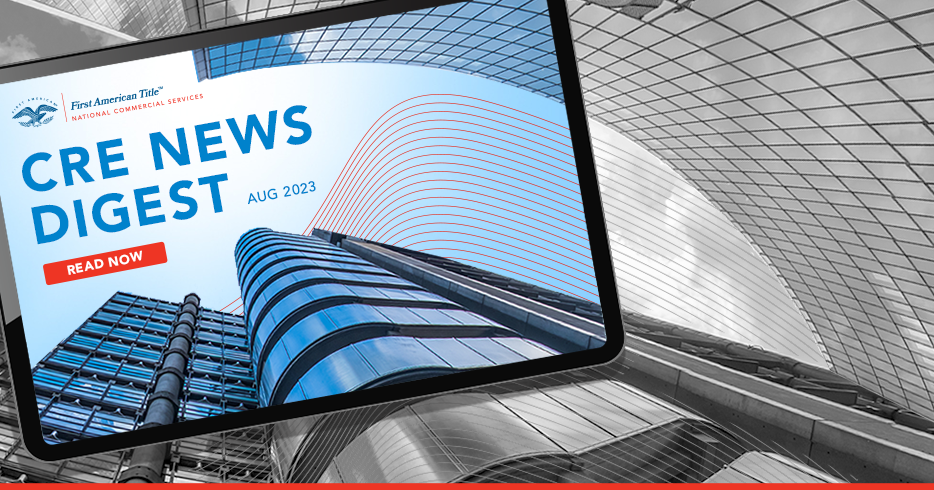 Welcome to the CRE News Digest from First American Title NCS, where we explore the biggest stories in commercial real estate. As a legacy brand working in CRE for more than 120 years, First American keenly knows the market and the forces that are impacting our clients' businesses.
Big Picture: The Price is (Not) Right
While commercial real estate property prices have generally trended lower as the industry recovers from the COVID-19 pandemic, new data suggesting that "the worst is yet to come" is giving some industry experts reason to worry. A new report released in July from Morgan Stanley's REIT research team is forecasting that prices will fall more than 27% percent peak-to-trough for all asset classes through 2024.
The country's top property markets are expected to bear the brunt of the price drops. According to Markets Insider, property values in New York and Chicago are forecasted to decline by 30 to 35% and in San Francisco by more than 40%. Declines are driven in part by ongoing challenges in the office sector as hybrid work drives office vacancy rates.
It is worth noting that while prices are solidly in decline, the rate of those declines is slowing. GlobeSt shared that a new study from MSCI Capital Trends "reported a 5.1% annualized rate of decline from the first to the second quarter of 2023", representing an improvement from Q4 2022.
CRE experts are looking to previous financial crises to forecast the severity of price declines in the near future. In a recent blog post, First American Senior Commercial Real Estate Economist Xander Snyder examined current price trends with those of the Savings and Loan crisis of the early 1990's and the Great Financial Crisis. According to Snyder, if current prices follow historical patterns, the industry will have to wait at least two years for any sign of recovery.
State of the Sector: Hotels
Despite making a strong recovery from its pandemic-era slump, the hotel asset class has recently fallen on hard times. New data from CoStar reveals that quarterly hotel deal volume fell by 70% on a year-over-year basis. High interest rates have stalled new developments from Las Vegas to midtown Manhattan. A number of high-profile loans are at risk or have already defaulted; KeyBank recently watchlisted a $4.7 billion loan whose profile included more than 560 hotels, and the Public Hotel in New York City is headed to auction after its owners defaulted on an $85 million loan.
The return of travel post-COVID offers a bright spot for the industry. GlobeSt shares that a halt to the Federal Reserve's interest rate hikes could kickstart development; however, rate hikes are expected to continue in coming months.
Innovation: AI and CRE
The CRE industry is coming to terms with the rapid rise of AI technology with enthusiasm and some caution. New AI developments, especially generative AI and large language models, have the power to transform key aspects of the CRE business model. Wealth Management highlights how AI might be beneficial in streamlining various administrative and analytical tasks like demographic research, financial modeling, and data extraction. The AI boom also has the potential to impact commercial real estate in a different way as new AI businesses and tech firms look for office space.
This demand may drive growth in key tech markets like San Francisco, whose office sector has struggled in recent months. The consensus among industry experts is that CRE at its core remains a relationship-based business, and new technologies should act as support tools rather than job replacements. The AI horizon is broad, and according to Bisnow, "CRE is likely only starting its tech journey."