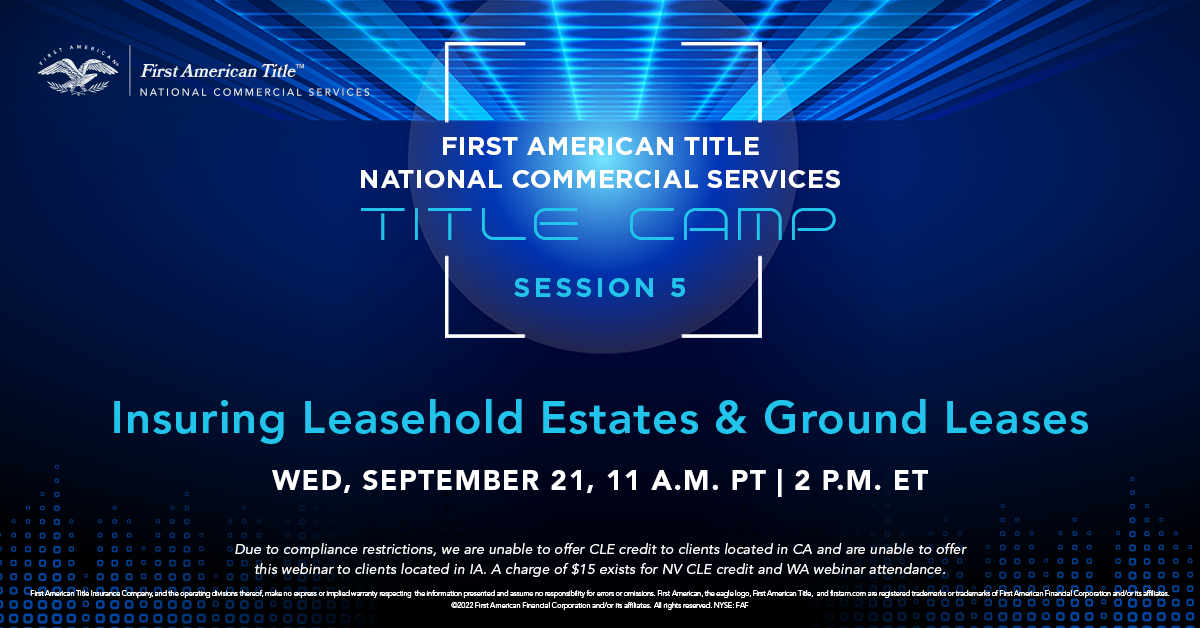 All real estate transactions involve multiple issues and many steps to finalize the deal. Commercial real estate is inherently complex because these transactions often involve multiple sites and multiple locations and often multiple states across the country.
This article will explore certain types of leasehold estates – specifically insuring leasehold estates, special provisions of ground leases, and bifurcated estates.
Leasehold Estate
A leasehold estate is created by a lease agreement and exists for a designated period of time in which the owner of the fee estate transfers to the lessee the right to exclusive possession and use of land.
Ground Lease
In general, a ground lease is a long-term lease of unimproved land or previously developed property that requires the tenant to construct improvements. The term is typically set for a long period of time – from 50 to 99 years. The tenant holds ownership of improvements during the lease term and is obligated to pay all expenses except the landlord's fee mortgage and income tax. A famous example of a ground lease is the Empire State Building in New York.
A Notice or Memo of Ground Lease
The recording lease or Memorandum of Lease is a notice to third parties of the rights and obligations in the Lease. A Memo of Ground Lease must identify the parties, the property, the term, and any other significant elements of the ground lease. The memo elements may include restrictions affecting title to the property; any options or Right of First Refusal (ROFRs) in favor of tenant to purchase the property; any terms regarding mortgaging the fee or leasehold estate; and appurtenant (or pertinent) easements.
Special Provisions of the Lease
Sometimes, it is necessary to raise additional exceptions in Schedule B of the title insurance policy for these special provisions in the Lease.
Bifurcated Estates
Bifurcation is the splitting of a larger whole or main body into two smaller and separate units. Insuring title to the improvements in one party, and title to the land upon which they are affixed in another party is often referred to as a "severed improvement", "split fee", or "constructive severance" transaction.
Bifurcated estates sever the improvements from the fee estate and transfer ownership to the Tenant. It must be accomplished through a conveyance recorded in the real property records, such as Deed for Improvements. Insurability depends on state law and a determination if, once severed, the improvements constitute real or personal property.
To learn more about title insurance in relation to leasehold estates, ground leases, and bifurcated estates, join our Insuring Leasehold Estates & Ground Leases Title Camp 5 webinar on September 21.
For the live webinar on September 21, due to compliance restrictions, we are unable to offer CLE credit to clients located in CA and are unable to offer this webinar in IA.
* In compliance with regulations, if you wish to obtain NV CLE credit, a $15 fee will be charged.
* In compliance with regulations, if you wish to attend the webinar in WA, a $15 fee will be charged.
First American Title Insurance Company, and the operating divisions thereof, make no express or implied warranty respecting the information presented and assume no responsibility for errors or omissions. First American, the eagle logo, First American Title, and firstam.com are registered trademarks or trademarks of First American Financial Corporation and/or its affiliates.